Watch 'A Good Day To Die Hard' & Check Out The Best Big-Screen Father & Son Duos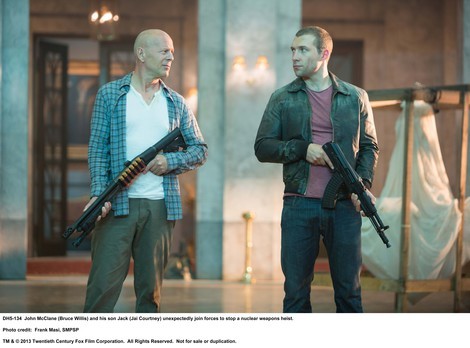 It's hard to think of a more definitive, all-round American action-hero dad than John McClane. This upcoming Father's Day, John McClane teams up with his son to take out Russian terrorists in "A Good Day To Die Hard" (now on Blu-ray, DVD & Digital HD™).

To celebrate the ultimate father/son team-up, we take a look back at some of the best father and son on-screen duos.

A Good Day to Die Hard

For 2013's A Good Day to Die Hard, we see the ultimate power-house father and son duo, as John McClane teams up with his equally-as-ass-kicking son Jack McClane.

When John McClane learns of his son's imprisonment in Russia, he is left with no choice but to hop on a plane and bail out his son.  However, it just so happens that John McClane interferes with his son Jack's top secret CIA mission. So, the two-man team must fight against dozens of Russian goons with machine guns to save the day. It really doesn't get more action-packed than two McClanes on the one screen.

The Godfather

Essentially a father and son(s) story, this list wouldn't be complete without The Godfather. An almost Shakespearian tale of a King and his three vastly different heirs. Central to the story, however, is the relationship between Don Corleone (Marlon Brando) and his youngest son, Michael (Al Pacino).

While Sonny and Fredo have followed their father into the 'family business', Michael shuns his father's attentions and ambitions for him, determined to follow his own path. This, of course, makes him far more his father's son than the others will ever be and Michael's subsequent descent is both inevitable and all the more tragic to watch. Two sequels continued the story of the son's fulfilling his destiny of walking in his father's shoes, whether he wanted to or not.

Return of the Jedi

Imagine finding out that the worst villain in the galaxy is your father. In one of the most memorable scenes in film history Luke Skywalker finds out exactly that when Darth Vader reveals the young Jedi's heritage.

Luckily for this galaxy, Skywalker Jr. has a heart of gold, and is arguably and even finer Jedi (he was semi-trained by Yoda after all), and so, Luke is able to turn his father back to the light before the finale reaches its epic and explosive climax. Father and son, Anakin and Luke, are finally united as good for the first time on-screen (they never actually met in the prequels you see…)

Indiana Jones and the Last Crusade

Even a man as accomplished as Indiana Jones has a hard time escaping his father's shadow, as 1989's "Indiana Jones and the Last Crusade" indicates. Forced to chase dad on a legendary quest, Indy spends almost as much time bickering with Professor Henry Jones (Sean Connery) as he does finding adventure while seeking the Holy Grail.

As a father and son, Sean Connery and Harrison Ford are a near perfect match. And who better than the original James Bond to play daddy to Indiana Jones? Their banter and their chemistry ignites the screen and deservedly takes a spot up on this list.

The Pursuit of Happyness

Will Smith and his son Jaden Smith have teamed up again this summer for an action-packed father/son film, "After Earth." However, the first time the pair on-screen together was for a rags to riches true story about a man named Chris Gardener. Chris is a salesman who is down on his luck and when his wife decides to leave him he hits a new low.

Determined to keep custody of his son, the pair set out on a journey of heartbreak and struggle with hardship lurking around every corner. Chris has an opportunity to change both his and his son's life with an internship as a stock broker however in order to reach his goals they must both sacrifice everything but each other.

Inspired by his sons courage and strength in the face of adversity and powered on by a fathers unyielding love for his son the pair immerge from a life of homelessness and poverty, together, and basking in happiness.

Kramer vs. Kramer

As famous for its tear-jerking moments as it is for its performances, this 1979 Oscar winner was always going to find its way onto our list of on-screen father and son duos. When his wife suddenly leaves, Ted Kramer (played by Dustin Hoffman) and his son Billy learn to live on their own and rely on each other. It's not easy at first, but they soon come to a mutual understanding and deep love for one another.?

When his wife (played by Meryl Streep) suddenly returns and wants sole custody of their son, Ted shows just how far a father's love is willing to go and how long a man is willing to fight for his family. In a time when women are usually automatically given custody, Ted attempts to defy the odds and win his son back.