Was Kim Kardashian's Slim Bikini Body Photoshopped On Us Weekly?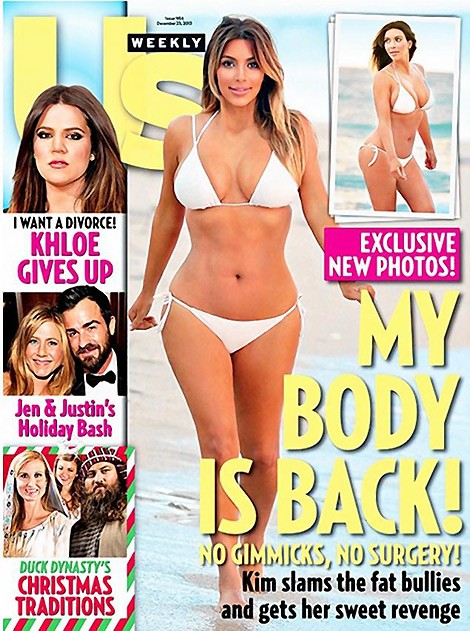 The latest issue of Us Weekly features a curvy Kim Kardashian flaunting her sexy post-baby bikini body, but many are wondering if the shots are a true depiction of the reality star.
The cover shows "The Keeping Up With The Kardashians" star in a white string bikini with a slim waist. The magazine blares, "My body is back! No gimmicks, no surgery! Kim slams the fat bullies and gets her sweet revenge."
One of the complaints is that Kim's head looks noticeably small and is out of proportion with the rest of her body.
A rep told FOX411 that Kim didn't pose for the magazine, and Us Weekly likely used paparazzi shots for the tabloid. The photos were taken on Nov. 30, according to the magazine.
One commenter on the Us article wrote: "This is not her real body. Last week she had a skirt on and her hips and butt were HUGE," while another one added: "This is [probably] not even her, all photoshopped and no way for anyone to know the truth."
In October, Kim revealed her bikini body in a controversial butt selfie that she posted on Twitter.  She was called names like "slut" and said she should be "ashamed" of herself for posting the image.
Meanwhile, the "Keeping Up With The Kardashians" star posted on her blog on Tuesday: "Over the years, I've had to grow a thick skin. Being in the public eye, there are times I feel like I get criticized for any and everything I do. I'm used to it now. I just choose not to feed into negativity or become consumed by it."
She was referring to scrutiny of her charitable donations but it would appear to relate to criticisms about her looks as well.
The reality star, who gave birth to daughter North West in June, reportedly finally "feels confident again" after following the Atkins diet and embarking on an intense exercise routine created by fitness guru Tracy Anderson, according to Us Weekly.
A source recently told People.com: "She's got a trainer on tour with she and Kanye and a chef to keep her meals carb free. With the exception of some cheat days, because she is realistic now, she sticks with it!"