Warwick Davis Backs Make-A-Wish Campaign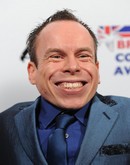 British actor Warwick Davis is helping sick kids fulfill their dreams after signing up as an ambassador for the Make-A-Wish Foundation.

The Harry Potter star is using his new status to back the charity's Go Gold campaign, which is encouraging Brits to don shiny clothes this May to raise awareness and money for the cause.

He says, "Make-A-Wish is a brilliant charity and I'm really excited to be involved with the Go Gold campaign. Getting sponsored to wear gold or organizing a gold-themed event during May is a really simple way of supporting Make-A-Wish and something that the whole family can get involved with."

"I hope that everyone will join me in helping this fantastic charity."