Warren Christie Doubly Impressive In 'The Color Of Rain' And 'Motive'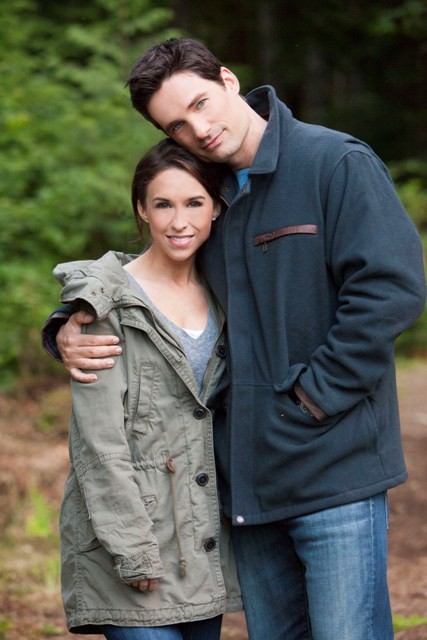 Warren Christie is kind of everywhere right now, and that's a great thing. After winning us over as the roguish Cameron Hicks on SyFy's Alphas, he's now simultaneously appearing as Angie Flynn's charming new boss on ABC's Motive and starring with Lacey Chabert in the moving true story The Color of Rain, which premieres on Hallmark Movie Channel tonight. BFTV connected with Warren on Friday to discuss his recently busy schedule.
In The Color of Rain, Warren stars as Michael Spehn, trying to raise his three children after losing his wife Cathy to cancer. Michael forms a bond with Gina Kell (played by Lacey), whose husband has also just passed away from the same disease, and the two not only heal together, but thrive and eventually fall in love. Why did he decide to take on the role?
"The script was sent to me through some producers that I had worked with before. They were nice enough to think of me," he told us. "It wasn't until the last page I realized it was a true story. I started flipping back and going through it again, seeing it through different eyes. It was intimidating a little bit, obviously!"
Especially when the person you're playing is on the set, watching you pretending to be them, as was the case with this movie. Both Warren and Lacey had the chance to meet their real-life counterparts, and the real Michael and Gina got to observe filming. "The family came to visit us for a couple of weeks," Warren said, and that means more to him than any commercial success. "Our main goal is that the family is happy with the story."
In our interview with Lacey, we asked her to dish on Warren, so it was only fair that we let him return the favor. What did he think of working with her? "What you see is what you get," he told us. "She's one of the sweetest people I've ever worked with." We'd certainly love to see them collaborate again, as they make a truly endearing pair in this very special movie.
The reception hasn't been so warm for Warren's character on Motive, who audiences met two weeks ago when he became the new team commander. We learned very quickly that Mark Cross is not only a thorn in Angie's (Kristin Lehman) side professionally, but he's also her ex-lover. A lot of credit has to be given to Warren, because without the fact that he's so likeable, the friction between Mark and Angie would make us want to punch him. So if it's been interesting for us to accept his character, what has it been like for him to play the part?
"Very cool," he enthused. "You're the new kid in school, they're like a family because they spend so much time together on set. I've never really done a procedural like that before. It was fantastic."
He also confirmed Kristin's earlier report that we'll get to enjoy more Motive: "We actually will do season three," he added. "We start shooting again in September."
All quips about Cross aside, Warren has been a wonderful addition to the show's already talented ensemble. One of the great things about Motive is that it's populated by actors who largely fly under the radar, delivering solid work without much fanfare, and we'd argue he fits that description.