Warped Tour Festival Kicks Off With A Bang!

It's time for the Vans
Warped Tour
again! This year's nation sweeping festival kicked off last week at Fairplex Park in Pomona California with a bang. Like years past, the tour continued to include a new and fun mix of acts.
The bands participating in this year's Vans Warped tour are as innovative, original and punk rock as ever, even when the music they create isn't traditional classified as punk rock. This has helped make Vans Warped tour a diverse mix of music perfect for type of fans it has brought out for 14 years now. Every year the Warped tour brings out the best of punk rock music, however they also have developed a reputation of giving a shoot to underground success stories. I was able to spend the Pomona tour date with
Forever the Sickest Kids
, without a doubt one of this year's success stories.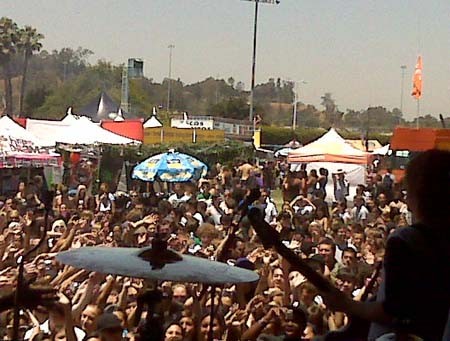 It's 1:15, fairly early in the long second day of Warped Tour as Forever The Sickest Kids (
FTSK
to their fans) get ready to play ticket off their second year of Warped Touring. They have managed to attract a large crowd at the Smart Punk stage, stealing most of it from Swazzy who is just finishing up. Wasting no time, as soon as "Scenester" rapper Swazzy and partner
Cisco Adler
say their goodbyes, FTSK plays the first chord and the crowd goes nuts! The boys of FTSK are high energy and fun from start to finish, even though they say a string of acoustic sets and radio dates have brought down their endurance for playing in this type of heat; no one notices or cares though. Forever the Sickest Kids are rocking out and in middle of the 100+ degree day in Pomona California their fans are probably just as tired. The last days of classes and sitting indoors all day have not prepared them for this type of heat either, but the band can't tell. They are feeding off all the energy the crowd gives them because FTSK really loves their fans.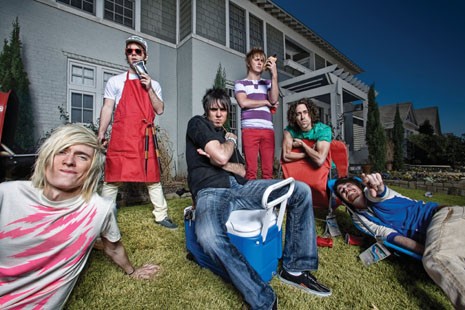 "We got as many acoustic sets as we could get, as many signings as we could get, to make sure we could get out and meet every fan that we could, it's just a fun time if you let it be. It's hot but kids want to come out and hang out, and that's better then sitting in the back," Marc guitarist for FTSK tells me about their game plan for the tour. With only last year to have learned from, this band already has set up some really great promotions to get their fans interactive and excited about the music and the group. To start off the day, lucky fans got to eat breakfast with the band in a Smart Punk Breakfast, right before the band's set. Partnering up with FUSE networks, the band filmed their merch booth signings and offered their fans a change to not only meet them but be introduced to the nation "FUSE is going to be filming at our merch booth during our signing after this set, so come out and get on TV with us!" the band offers a screaming crowd of tweens. Also with FUSE, the band sets up a contest to show off their fans affection through snacks. Forever the Snackest Kids will be a FUSE feature showing what crazy and munchie worthy snacks the FTSK fans bring the boys. Marc adds," I got a piece rolling sushi…the other day. That was probably the coolest. "
The band begins playing the finally song of their Smart Punk stage set "She's A Lady" like the rest of the set, the band is sharp, full of energy. FTSK leaves their hearts' on the stage at the end of ever set, and this first class performance is no exception. At Warped Tour giving it your all is mandatory though, with 50 plus bands playing each day and each day reaching 90 degrees or more (105 on the Pomona show date), fans can do much better then watch a boring, predictable band. Forever The Sickest Kids get it and have this to say about what makes Warped tour fans stick out, "Kids come out here ready to be hot, ready to get wet, ready to have fun, they know they are coming to get dirty."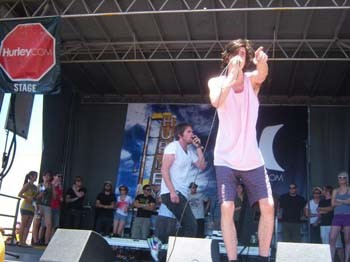 While pop-rock bands make up much of the bands at this years Warped Tour, attendants were able to see much more than that. A great example of this is
3OH!3
, a Denver based Rap duo (think Spank Rock or
2 Live Crew
only whiter). This group brought the big beats and raunchy lyrics in songs like "Punk B****" and "Holler Till You Passout" you would except from a top forty hip hop act and that fans of the Bronx secretly love. Well not too secretly, since their crowd was huge and bumping. This is the group's second year on Warped tour. "Last year we just did the Denver date" says 6' 7" rapper Nate. It must have gone very well since it secured them a slot on the whole tour this year.
Another non- traditional Warped Tour act managed to surprise fans at the Pomona show; her name is
Charlotte Sometimes
. A native of New Jersey, her music could easily be compared to a poppy
Fiona Apple
or indie
Katy Perry
from just listening to her album. After seeing her live show, you can see how she made this year's bill. " The crowd has a lot more energy than most crowds and are easily distracted so you have to be prepared to grab their attention the entire set!" says Charlotte about her first experience performing at Warped Tour. "I try to give my all each show no matter where I am, but I keep in mind that I'm competing against a lot of bands." Charlotte didn't hold back on any of the songs she performed, including the single "How I Could Just Kill A Man" and yes the chorus is taken from the classic
Cypress Hill
song. "The song started out as a joke, but it's all about how someone your dating only wants you for selfish reasons and leaving them because you know it's not worth the hassle and drama... I could just kill a man, is kind of a way of throwing a man's heart aside to save your own."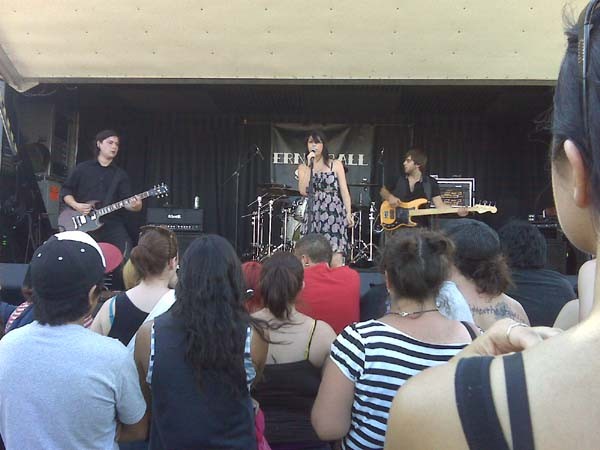 When the set started, her crowd consisted of a hand full of hardcore fans and industry insiders, by the third song the crowd had grown to over 25, a huge turn out for the smaller act stage she is playing on. Her big voice and sassy bad girl lyrics attracted female and male fans alike and her undisputed talent left the crowd wanting more. "It's crazy! So exciting that I am able to move people... It's really an amazing feeling."

Another notable female singer on this year's bill,
Katy Perry
, was by far the newbie the crowd was dying to see the most. With two huge hits out now "I Kissed A Girl" and
Madonna's
personal favorite "Ur So Gay" her crowd was as expected, massive. Rocking a 50's inspired bathing suit she gave a stellar show. She is fun to watch but has the chops to also make you take her seriously. Starting the show with a quick cover of "Like a Virgin" set the tone for the rest of the show, poppy, fun and easy to enjoy. She ended with what is defiantly her biggest hit "I Kissed A Girl" and the crowd sang word for word along with her, a little scary but very Warped Tour behavior.
This year's Warped Tour does not disappoint! You can find exactly the bands you came to see and be exposed to even more. Tip: make sure to check out some of your favorite band's acoustic sets at tents like the Myspace Tent through out the day. They are close and intimate and from what I saw really good. Gym Class Heroes' acoustic set is not to be missed!
Story by
Iyana Gregory
Starpulse contributing writer