Walt Disney Records Releases 'Nightmare Revisited' Sept. 30

On September 30, Walt Disney Records unveils Nightmare Revisited with 20 fresh recordings and beloved covers of the music, mayhem, and merriment from
Tim Burton's The Nightmare Before Christmas
.
Danny Elfman
returns to recapture the musical landscape he masterfully created for the original
The Nightmare Before Christmas
soundtrack with two brand new recordings of the "Opening" and "Closing." Adding a new tantalizing twist to
Nightmare
favorites,
Nightmare Revisited
also boasts an eclectic array of today's music superstars including
Korn
,
Amy Lee
,
Plain White T's
,
Rise Against
,
Rodrigo y Gabriela
,
The All-American Rejects
and more. Of course the soundtrack could not be complete without a popular ghost of
Nightmare
's past:
Marilyn Manson
's eerie cover of "This Is Halloween."
Each artist re-imagines the most beloved
Nightmare
anthems, incorporating their signature styles and bringing a hauntingly delightful new sound to life. Clips of each song can be heard at
www.nightmarerevisited.com
.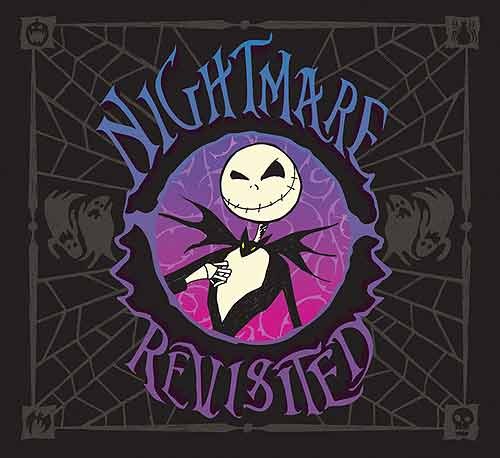 Nightmare Revisited track listing:
1. Overture –
DeVotchka
2. Opening –
Danny Elfman
3. This Is Halloween –
Marilyn Manson
4. Jack's Lament –
The All-American Rejects
5. Doctor Finkelstein/In the Forest –
Amiina
6. What's This? -
Flyleaf
7. Town Meeting Song –
Polyphonic Spree
8. Jack and Sally Montage –
The Vitamin String Quartet
9. Jack's Obsession -
Sparklehorse
10. Kidnap the Sandy Claws -
Korn
11. Making Christmas –
Rise Against
12. Nabbed –
Yoshida Brothers
13. Oogie Boogie's Song –
Rodrigo y Gabriela
14. Sally's Song –
Amy Lee
15. Christmas Eve Montage –
RJD2
16. Poor Jack –
Plain White T's
17. To the Rescue –
Datarock
18. Finale/Reprise –
Shiny Toy Guns
19. Closing –
Danny Elfman
20. End Title –
The Album Leaf