Waka Flocka Flame's Security Team Banned From North Carolina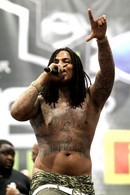 Officials in North Carolina have ordered rapper Waka Flocka Flame not to bring his security team to upcoming concerts in the state after a gun battle in the city of Charlotte last year.

The hip-hop star's bodyguards opened fire on a number of cars in Charlotte last February after the rapper's tour bus was sprayed with bullets. One person was injured in the incident and two were arrested.

Officials at the North Carolina Protective Services Board have now slapped the star with a cease and desist letter, ordering him not to use his security guards at his shows in the state this month.

They cited the Charlotte incident and insisted the star's bodyguards are not properly licensed.

The legal documents reveal that if any members of Waka Flocka Flame's entourage engage in private protection services during their time in the state, they will face criminal charges, according to TMZ.com.