Volleyball Star Kerri Walsh Poses Nude & Pregnant For ESPN's Body Issue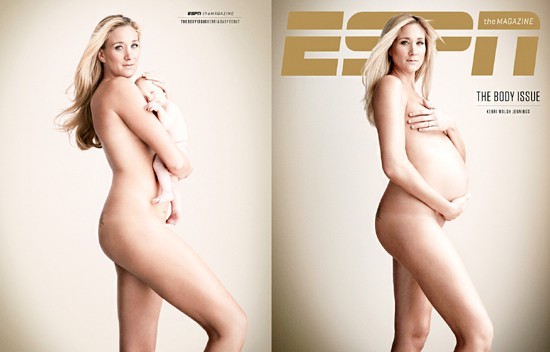 Kerri Walsh Jennings made a daring decision by posing nude for ESPN magazine's Body Issue. The hitch? She did it twice - before and after having her third baby.

The Olympic volleyball star showed off two very different figures for ESPN's 2013 Body Issue. In the first image she is featured naked with her hands cradling her pregnant belly and breasts. In the second shot she is nude and holding on to her infant daughter Scout.

Walsh, 34, was actually more nervous to pose for the "after" image. "For the first shoot I was very pregnant and that wasn't as scary," she admitted to the magazine. "But for the second I was two and a half months out from having a baby. I'm supposed to be tight and toned and strong, but I have a lot more work to do."

Incredibly, the athlete was five weeks pregnant with Scout when she competed in the 2012 summer games (for which she and her teammate Misty May Treanor won a gold medal). Walsh and her husband Casey Jennings welcomed their third child in early April. They also have two sons: Joey, 3, and Sundance, 2.

Walsh admits she's not back to her pre-baby shape just yet, but is working on it. "I am 15 pounds heavy," she confessed.
When asked what her favorite body part is, she responded: "Physically, I think my best asset is my tushy, but these days I'm frightened of what I see back there. I can't wait to be back to normal. I've been doing a lot of lunges and squats and step-ups. Seriously, the last month everything I've done has been focused on my buns."

ESPN's Body Issue hits news stands on Friday.