Vogue Drops Miley Cyrus From Its Cover Following VMAs Performance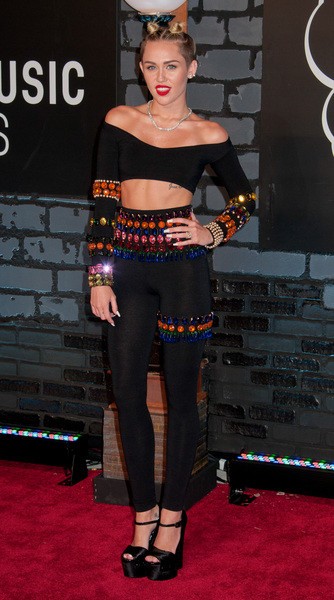 It seems like Miley Cyrus' racy performance at the MTV Video Music Awards (VMAs) has ruined her chance at becoming a cover girl for Vogue magazine.
According to Britain's Daily  Mail, the singer/actress was photographed for the December issue, but editor-in-chief Anna Wintour reversed her decision to feature her on the cover.
An insider says Wintour thought Cyrus' gyrating and dancing at last month's award show was "distasteful" and decided to "take the cover in a different direction."
At the VMAs, Cyrus wore a flesh-colored bikini and twerked against "Blurred Lines" singer Robin Thicke while also making provocative gestures with a foam finger.
Last week, she tweeted the artwork for her upcoming single "Wrecking Ball," featuring the scantily clad star on top of a ball holding onto a large chain. Cyrus, 20, wears a cropped white tank top, matching underwear and boots.