VOD Review: 'Jay & Silent Bob's Super Groovy Cartoon Movie'
Ready for an animated helping of snoogins?  Then follow us as we check out "Jay & Silent Bob's Super Groovy Cartoon Movie" currently available On Demand and on iTunes now from Phase 4 Films.  We review the what's funny and what's not below!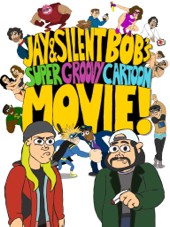 Title: "Jay & Silent Bob's Super Groovy Cartoon Movie"     
   Stars: 3
   Genre: Comedy / Animation
   Cast: Jason Mewes, Kevin Smith, Eliza Dushku
   Director: Steve Stark
   Rating: Not Rated
   Running Time: 63 Minutes
   Release Company: Phase 4 Films
The Flick: Being a Kevin Smith fan, ANYTHING from the View Askew Universe is always welcome.  Down side here is that the script written by Smith is directed by Steve Stark and doesn't exactly have the full Smith zing.  What you do get is a ton of truly filthy, dirty and totally raunchy toilet humor (Jay and Bob get caught giving handjobs to each other for crying out loud!) of which some works (the secret lair is at RST Video!) and some doesn't.  (There are way to many foul and unfunny super villains here!)  But I have to admit that calling it Jay & Silent Bob instead of Bluntman and Chronic – which is essentially what 90% of the story is about – is a bit misleading.  More Jay and Bob and less Bluntman and Chronic I say as some superheroes stand tall on their own.  
Best Hidden Gem: Seeing a final caption at the end of the credits proclaiming Jay and Silent Bob will return in "Clerks III" – can't wait!
Worth the Moola: For those who need a still drink of Jay and Bob ASAP down it – but it will be watered down.
"JAY AND SILENT BOB'S SUPER GROOVY CARTOON MOVIE" IS AVAILABLE NOW VIA ON DEMAND AND iTUNES FROM PHASE 4 FILMS.