VOD Review: 'All Cheerleaders Die'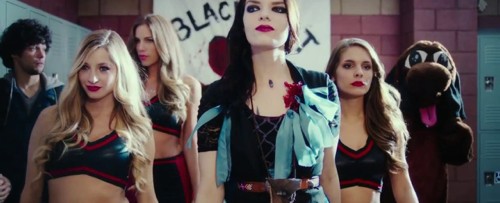 Cheerleaders.  Die.  Resurrected.  Ready to kick ass.  We're checking out the new horror flick "All Cheerleaders Die" available on VOD May 8 from RLJ/Image Entertainment.  We review the cheers and fears below!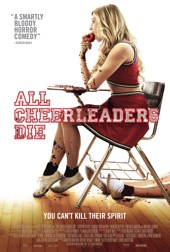 Title: "All Cheerleaders Die"    
   Stars: 3
   Genre: Horror / Thriller
   Cast: Caitlin Stasey, Sianoa Smit-McPhee, Brooke Butler
   Director: Lucky McKee and Chris Sivertson
   Rating: Not Rated
   Running Time: 90 Minutes
   Release Company: RLJ/Image Entertainment
The Flick: No doubt – the premise of said flick is a winner for sure.  Gang of cheerleaders piss off the guys from the football team, end up dead and rise to seek revenge thanks to a spell by a witch, all the while throwing out comedic barbs like well received touchdowns.  The execution however is something else as the tone of "All Cheerleaders Die" is so uneven that it's the more morose bits (which I can only assume belong to horror made uncomfortable filmmaker Lucky McKee!) that actually score the points here.  Whoever edited the fast paced, quick-witted and furiously funny trailer needed to give this a good once over. 
Best Hidden Gem: I must admit I dug the vengeance seeking Caitlin Stasey who has some tasty voice over work here reminiscent of Winona Ryder in "Heathers."
Worth the Moola: Fun at times, horrific others, "All Cheerleaders Die" isn't a bad film it just looks better on paper.
"ALL CHEERLEADERS DIE" IS AVAILABLE MAY 8 VIA VOD FROM RLJ/IMAGE ENTERTAINMENT.