Visit The Set Of NBC's New Hospital Drama 'Mercy' (Video)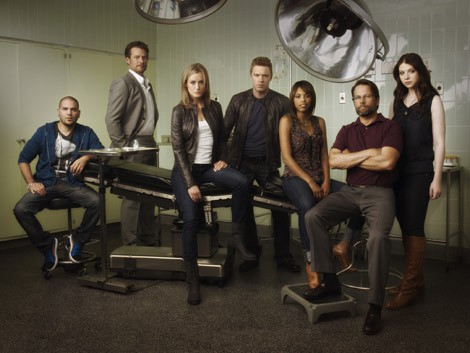 We recently visited the set of NBC's hospital drama,
Mercy
, for a tour of the set and to spend some time with the stellar cast;
Taylor Schilling
(Nurse Veronica Callahan),
Michelle Trachtenberg
(Nurse Chloe Payne),
Jaime Lee Kirchner
(Sonia Jimenez),
James Tupper
(Dr. Chris Sands),
Guillermo Diaz
(Nurse Angel Lopez),
Diego Klattenhoff
(Mike Callahan),
James LeGros
(Dr. Dan Harris) and new cast member
James Van Der Beek
(Dr. Liam West).
In between filming takes James Tupper gave us a personal tour of the Mercy set and in the process discovered that he is not only a practical joker but he is also a man who is absolutely head over heels in love with his girlfriend and the mother of his son,
Anne Heche
. Between getting as many people to squeeze into a fake elevator and bringing people up staircases that led to a cinderblock walls he was gleaming with joy and laughter at the messages that Heche was sending him of her and their son, Atlas, shopping for a new chandelier and chairs.
We visited Mercy Hospital's nurse station, the various hospital rooms, an operating room, the staff locker room, the hospital roof deck, various house sets and Delaney's Pub; which was looked spectacular!
The eight main cast members then gathered around in Delaney's Pub for some Q&A time where we discovered that the cast seems to truly enjoy one another. They were lighthearted, fun and laughter filled while taking questions and even breaking their own chops a bit.
Check out the Q&A video
below and get to know a bit more about NBC's new hospital drame "Mercury."
1) The bloggers question James on his characters intentions and direction with the females on the show.
2) Guillermo compares playing his character Angel to the string of bad boy characters he's taken on in other series.
3) The New York versus New Jersey question.
Story by
Eric Stromsvold
Starpulse contributing writer