Viral Video: Alicia Silverstone Feeds Her Son - By Regurgitating Food In His Mouth Like A Bird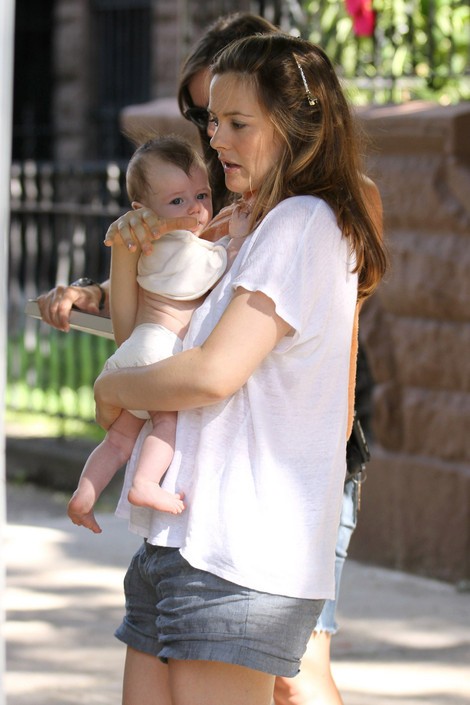 When Alicia Silverstone created her website The Kind Life, which she called "an interactive extension of my book, The Kind Diet, which is about living your healthiest and happiest life to the fullest, while taking care of mama Earth at the same time," we thought we would be presented with adorable video of her son Bear growing up - not footage of Alicia letting him eat from her mouth!
It appears Alicia's son has taken to eating food directly from her mouth, bird-style. The mother writes: "I just had a delicious breakfast of miso soup, collards and radish steamed and drizzled with flax oil, cast iron mochi with nori wrapped outside, and some grated daikon. Yum! I fed Bear the mochi and a tiny bit of veggies from the soup…from my mouth to his. It's his favorite...and mine. He literally crawls across the room to attack my mouth if I'm eating. This video was taken about a month or 2 ago when he was a bit wobbly. Now he is grabbing my mouth to get the food!"
Health experts have since chimed in over the video. Dr. Jennifer Landa, M.D Chief Medical Officer of BodyLogicMD, told FOX411's Pop Tarts column, "There are those who think that a mom chewing a baby's food provides helpful enzymes from her mouth but it doesn't seem like a hygienic practice. Various viruses and bacteria, but especially herpes virus, may be passed from mother to baby."
Jackie Keller, executive chef of Los Angeles' NutriFit, also offered her expertise. "I wonder what benefit there could possibly be to the child and the mom? Certainly there is no scientific literature that I'm aware of that promotes this type of behavior among humans."
What do you think? Cute? Gross? A hoax? Let us know in the comments below.