Vincent Gallo Wants Phony Twitter Accounts Shut Down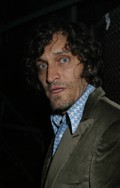 Actor/musician Vincent Gallo is pleading with bosses at Twitter.com to remove accounts used by pranksters to pose as celebrities.

The Brown Bunny filmmaker, who does not use Twitter, has had two pages set up by impersonators, who have attracted nearly 16,000 followers with strange messages, including digs at stars including Sarah Silverman, Kanye West and Milla Jovovich.
 
Gallo has also been bombarded with maple syrup at his concerts after a Twitter prankster promised fans backstage passes if they brought him bottles of the sauce.  But he has failed to convince Twitter bosses to remove the accounts.

He tells New York Post gossip column Page Six, "At a farmers' market, somebody was selling organic maple syrup and was all excited that I was there... I didn't know what this guy was saying about maple syrup...
 
"It is embarrassing having anyone believe I would sign up for and communicate with Twitter."