Vince Neil Begins His Jail Term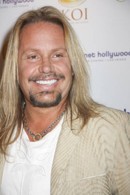 Vince Neil has surrendered to authorities in Nevada, where he'll serve 15 days behind bars on a DUI charge.

The Motley Crue star will serve his sentence at Clark County Detention Center.
 
Neil pleaded guilty to a 2010 DUI charge on January 26.
 
After serving time behind bars, Neil will be placed on house arrest for 15 days before heading out on tour in South America with Motley Crue.
 
Talking about his DUI shame, Neil recently told People.com, "I made a mistake, and I have to finally learn my lesson and go do a little bit of time. I've already learned my lesson. I just have to move on and get past it and get it behind me."