Vince Gill 'Deflated' By Radio Station Snub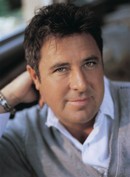 Country star Vince Gill is upset his songs have been sidelined from radio playlists and feels "deflated" by the lack of interest in his music.

The 54 year old released his latest album Guitar Slinger last month but lead single Threaten Me with Heaven only reached number 42 on the U.S. country charts.

Gill blames the lack of radio station interest for the poor chart position, and is convinced ageing country legends Merle Haggard and George Jones suffer a similar fate.

He tells the Associated Press, "I just felt like, 'Don't stop playing them because of their age'. If they're not as good, if the records aren't as great, if the c**p coming along is better, great. All I ever wanted any of the people coming along to be was great. But if you get replaced by what you feel is not even close to as good, that messes with you, I guess."

"I still sit in the car when I hear my song on the radio, and in this stretch of the last few years where I haven't, that hurts. It's still no fun. It's a drag to do what you do and they're not interested. You can't help be a little bit deflated by all that. Your desire doesn't change. Mine hasn't changed. I still want what I'm doing to reach people and touch people."
"I'm not going to quit trying."