Vin Diesel's 'Chronicles Of Riddick' Sequel Put On Hold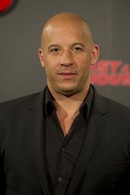 Production on the latest movie in Vin Diesel's Chronicles of Riddick franchise has been put on hold due to financial issues, according to a report.

The actor starred in 2000 sci-fi film Pitch Black and its 2004 spin-off The Chronicles of Riddick, as well as voicing his character in animated follow-up The Chronicles of Riddick: Dark Fury that same year.

Diesel is working on another live action film in the franchise, but the shoot in Montreal, Canada has reportedly come to a halt over cashflow problems, according to TMZ.com.

The website reports production at the Montreal studio was temporarily shut down on Wednesday.