'Vikings' Star Linus Roache Rules The World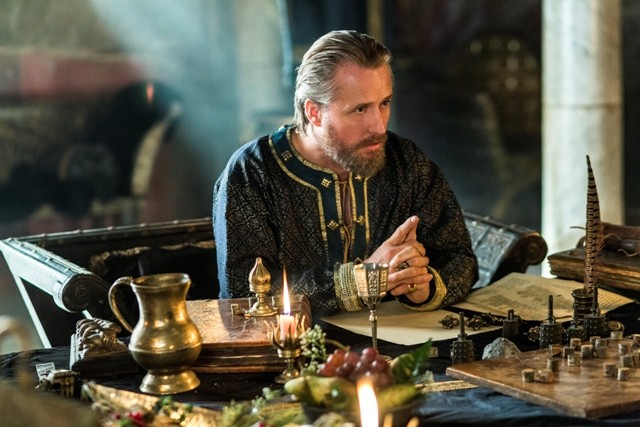 Linus Roache is ruling the world.
Well, maybe not the entire world. But tonight, he joins History's Vikings as King Ecbert, ruler of Wessex, the largest of England's five kingdoms. And when it comes to the acting world, he's most definitely one of its true titans. You'd be hard-pressed to find an actor who brings as much intensity to each and every one of his performances as Linus Roache.
That makes him an inspired choice for the role of King Ecbert, a character set to play a pivotal part in Vikings' ambitious and violent sophomore season. It's Ecbert who presents a real threat to Viking protagonist Ragnar (Travis Fimmel), as the Vikings advance on Wessex.
From the moment he's introduced - with an eerily calm monologue delivered to key members of his court - it's clear that Ecbert means business. Audiences will immediately grasp an intelligence and a ruthlessness that not only makes it absolutely believable for him to not only challenge the Vikings, but also makes you wonder if he might actually win.
So when you need an actor who has the credibility to play a historical ruler, yet also possesses the power to exist as a true opposing force to your protagonist, and can create that sort of emotional ambiguity within the audience, where do you go? That's exactly Linus Roache. Even if the specifics of the character aren't exactly what American audiences might be used to from the English actor, or even what he was necessarily looking for.
"You never know what's going to happen," Linus told BFTV in our exclusive interview Tuesday, explaining what brought him to History's original series. "I got on the phone with [Vikings creator] Michael Hirst, really liked him, liked what he was saying about the character. I sat down and watched the whole of season one. Sometimes life just throws you the right thing at the right time, and I ran with it."
Check out your first look at Ecbert below.