Viewers Enraged After Discovery Channel Airs Megalodon Mockumentary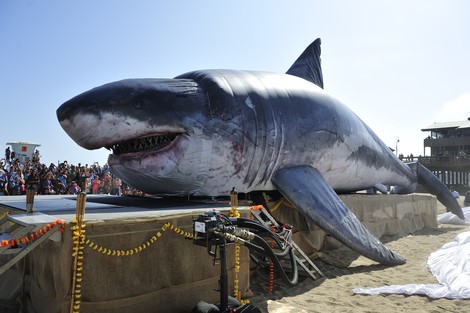 Hundreds of viewers aired their grievances to Discovery Channel on their Facebook page after the network aired a fake documentary entitled "Megalodon: The Monster Shark That Lives" to kick off Shark Week.
Shark Week has been a staple for the Discovery Channel for over twenty five years now, and for that time it has been firmly grounded in science.
That changed lasted night when Discovery aired a special with doctored photos, CGI in video footage, and scientists that don't actually exist. Included was an "unearthed" photo from World War II by the Nazis (of course the Nazis are involved) featuring a giant fin off the side of one of their U-Boats.
The show snuck in a few quick disclaimers at the end that basically revealed their forgery, but they went by so fast one would have to pause a recording to completely read them. 
Fans of Shark Week were quick to criticize the network for the show. "You should be ashamed. Not only did you show us a faked documentary on what used to be an educational series, but you also made the fake shark into a man-eater. You have spent 25 years trying to change that mindset in people. Do you want people to start killing sharks out of fear, again? I can only be thankful that most people realized you were lying," wrote one user on their Facebook page.
"We want facts on Discovery Channel. Leave fabricated science-fiction to the SyFy Channel. Shame on you for this megalodon show," posted another.
Others offered alternatives such as, "Tune in to Nat Geo Wild tonight for SharkFest, where they actually show real life sharks!"
It didn't fare much better on Twitter, where connections were made to to Animal Planet's laughable "dockumentary" on mermaids. "Ah… the 'dumbing down' of America continues: mermaids, megaladons and sightings of Bigfoot. Thanks a bunch, @Discovery!"
A Discover Magazine writer wrote an open letter to the channel, wherein she writes, "Megalodon: The Monster Shark That Lives was not just a disservice to your genuinely curious audience. It was a lie. You used your reputation to deceive your viewers, and you didn't even apologize for it."
Wil Wheaton summed it all up in his tweet, "Remember when #SharkWeek was about science and biology and learning?"