Video Game Review: 'Singstar' Series Brings Karaoke Home
Oh, the '90s. Too young to be considered hip in an ironic and nostalgic way, it currently sits in the awkward phase, awaiting d-list comedians to show up at VH1 with their best
Bill Clinton
jokes tucked away for such an occasion. While the decade gave us some spectacular artists like
Beck
and
Nirvana
, it also offered the dregs of the musical society with
Chumbawamba
and
MC Hammer
. Singstar: '90s has a collection of both worlds, offering the chance to croon along with some of your favorite songs and videos – then cringe at the hilariously bad tunes and their awkward visual pieces.
Singstar: '90s is another entry into the venerable Singstar series. For anyone who has played Singstar before, this entry doesn't change the gameplay mechanics one bit, just like every other game after the original. Gamers still have to hit vocal notes, and they can replace the music videos with their own EyeToy footage, record and playback their own performances, and play medleys of the available songs. What '90s does is add another 30 decade-centric songs to the mix for your singing pleasure. The game costs only $30 if you already have the mics, but it works well as a jumping-off point for $50 with the mics included.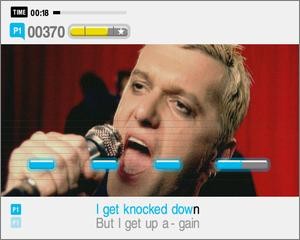 As stated before, the real attraction to Singstar: '90s will be the song selection, and it certainly isn't a slouch by any means. While purists will enjoy trying to tackle
Soundgarden
's "Black Hole Sun" or
Seal
's "Kiss from a Rose," many of the selections were obviously chosen to force a player to make a fool out of themselves in front of friends. "Ice Ice Baby" by
Vanilla Ice
, "Baby Got Back" by
Sir Mix A Lot
, "Only Wanna Be With You" by
Hootie and the Blowfish
,
R.E.M.
's "Everybody Hurts,"
Paula Abdul
's "Opposites Attract"... these are songs someone does not want to be caught singing along to. Then again, there wasn't a lot of '90s music that could be taken seriously.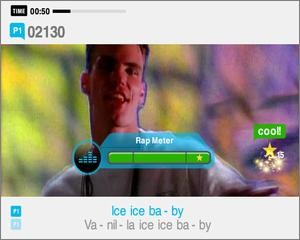 As stated before, the game was created for a party atmosphere. The solo options are paltry, and gamers can try to beat their best scores on each song as well as playback performances, but the fun comes from playing in a group. Passing the mic around and reliving some of the best and worst the last decade had to offer – in terms of the songs and of the music videos that play in the background – with a gathering of friends is the way to go. Otherwise, the entertainment value of Singstar drops considerably.
If the '90s aren't attractive, Singstar: '80s is also available. Featuring another 30 songs, most of them also tunes one does not want to be caught singing and dancing along to alone, it's a fine party game. "Rio" by
Duran Duran
,
Europe
's "Final Countdown," "We Built This City" by
Starship
, "Wake Me Up Before You Go Go" by
Wham!
... this is seriously the general idea of how bad music was two decades ago. Again, don't expect much of a difference between the two titles other than the music.
Overall, Singstar: '90s and '80s are great games for a party or for a player that has a friend on hand for most of their gaming sessions. It's really hard to recommend the series to a hardcore gamer that prefers a solo experience – these games really weren't created for them. But for anyone who likes to sing or listen to their tone deaf friends complain about the mic being broken, give these titles a try.
Overall Score:
7.5 out of 10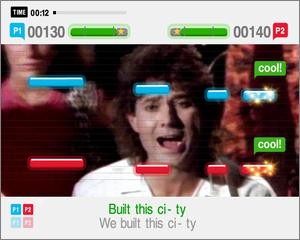 Review by
Casey Johnson
Starpulse.com Community Director, Staff Writer