Victoria Silvstedt Talks Playboy, Fame & Her One Unsexy Habit

Starpulse had the pleasure of interviewing
Victoria Silvstedt
this week, and we found that there is more to this nearly 6-foot blond than meets the eye. Victoria started competitively skiing at the age of 4, became Playboy's Playmate of the Year in 1997, and landed a Guess? Jeans campaign in 1998. She has since appeared in many movies, made her own pop album, and stars in her own reality TV show on E! '
Victoria Silvstedt: My Perfect Life
'.
Victoria doesn't take herself too seriously and even pokes fun at herself- when really she should be patting herself on the back for creating a one-woman empire. It's difficult to break out of the "just a Playmate" stigma, but she seems to have done it very well.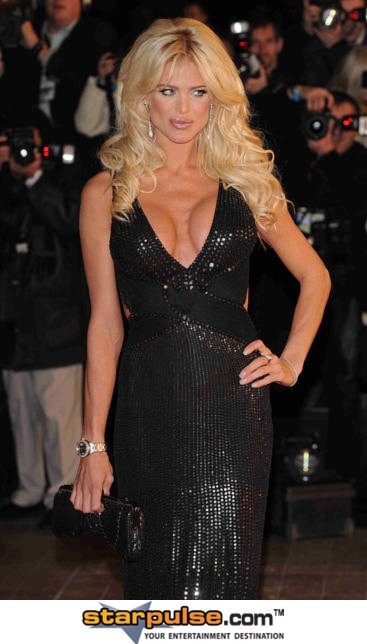 SP: You have accomplished so many things other than posing in Playboy, was it hard to break away from the Playmate stereotype and do you regret being in the magazine?
VS:
That's how I started my career in America and I don't regret any of it. Thank God that Hugh took a photo and put me in the magazine, quickly after that I got a contract with Guess? Jeans. I was lucky to be able to do other things right away- acting, TV shows, and films.
SP: You seem to have a lot of confidence, what advice can you give to other girls?
VS:
I wasn't really born with self-confidence-it came with my work. I was very shy before that and kind of insecure. I think it comes with time and you have to boost yourself. For me it's being active, fit, and having a lot of great friends.
SP: Are guys intimidated by you?
VS:
In the beginning some guys don't even dare to approach me, first of all I'm very tall and when I have my heels and makeup on it's almost too much for a guy. When they get to know me they see me as down to earth and normal. In America guys are much more gentlemanly.
SP: On "My Perfect Life" your dad comments that he may have pushed you so hard when you were little because he wanted you to be successful. What does your family think of you now?

VS:
I think he wanted me and my sister to be two skiing stars, he was pushing us to train and compete. I've had that competitive side to me and I think it helped in many ways. I never really got into partying and drugs. I just never got to the point that I got too weak to say no.
SP: Has your family kept you grounded?
VS:
I think my Mom (kept me grounded). I think I can be too nice to everybody and sometimes you can get run over a bit- but in the long term it is better than being rude.
SP: The paparazzi in Europe seem to swarm you, is that the worst part about being famous?
VS:
In Europe they have no respect, they will trespass and hide, it's crazy. In America they are a bit more respectful, especially in New York. In the past I was kind of careless. I did go to a lot of places without underwear and falling out of the car with no underwear, so they probably expect me to always do that. I've learned my lesson, now I put my grandma panties on (laughs).
SP: How do you stay in shape?
VS:
I walk a lot, stay on my heels, shaking/moving/dancing. I love to go out dancing, kind of kinky but it works. Anytime a girl goes out at night I think she should be in heels- definitely!

Unsexiest Habit?
When I go to bed I put on totally dorky pajamas
Favorite places to travel to?
South of France, French Riviera, Sardinia, St. Tropez, and my village in Sweden
Celebrity Crush?
Ben Affleck
, something about him, especially when he has a beard. Him and
Clive Owen
.
Must-have item in your closet?
I'm a Manolo Blahnik freak, and I just bought this amazing Chanel jacket that I am addicted to.
One thing you would do if you wouldn't be recognized?
Pick my nose, and I probably wouldn't put my hair extensions in.
SP: So what's next for you?
VS:
That's a good question? I just take the moment and enjoy it.
Catch Victoria Silvstedt: My Perfect Life on E!
Interview by
Kristen Schoels
Starpulse contributing writer
Click the pics for Victoria Silvstedt's gallery: