Victoria Returns On An All-New 'HIMYM'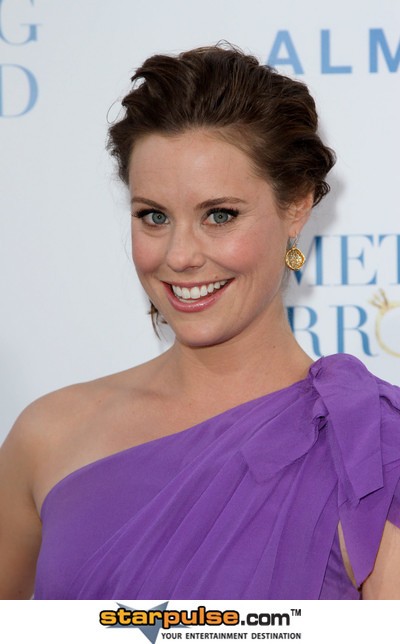 How I Met Your Mother's seventh season continued last night with "Ducky Tie."  I was excited because this episode was written by show creators Carter Bays and Craig Thomas, and they did not disappoint. 
Also exciting was the return of Ashley Williams as Victoria, Ted's (Josh Radnor) ex-girlfriend.  The two had a passionate love affair in season one, but when she took a culinary art fellowship in Germany the long-distance was too much of a strain on the relationship.  Ted ended up cheating on Victoria with Robin (Cobie Smulders), and he had felt really bad about it ever since. 
To break the ice, Ted immediately apologized for what happened six years ago.  She accepted the apology and said she had to go back to her bakery to clean.  Before she can leave, Ted gives one of his classic Mosby speeches about fate.  There has to be a reason we ran into each other tonight, right?   Ted offers to do the dishes as an act of contrition, and follows her back.
There were two different storylines going on during this episode, and the namesake belongs to the one involving Marshall's (Jason Segel) duck tie.  The gang goes out to a Benihana (they didn't call it that, but that's obviously what it was).  To make a long story short, Lily's (Alyson Hannigan) boobs were looking great because she is pregnant and Barney (Neil Patrick Harris) makes a bet that if he could do all of the things the Benihana chef was doing, that he could honk Lily's boobs.  If he couldn't do it, he would have to wear Marshall's duck tie for a year.
Back in the bakery, Ted and Victoria are getting along.  That is, until Victoria reveals that she is getting married.  The real stinger is her fiancée is a member of the German fellowship she went off to six years ago, and she reveals she started dating him two days after Ted cheated on her.  Ted gets visibly upset, feeling like he was feeling bad about nothing.  "Did I mean nothing to you?" he asks.  "I loved you," she responded.  They begin to reminisce about the good times they had.  Ted brings up "the drumroll," Victoria's belief that the moment leading up to the first kiss is even better than the kiss itself.  They look into each other's eyes, and lock lips.
The moment was one of the most powerful in the seven seasons of the show.   Ashley and Josh have such great on-screen chemistry.  Meaningful emotions are really hard to pull off as an actor, and I could swear Ashley's eyes were filling with real tears as Ted and Victoria recalled the great times they had. 
It was fleeting though, as Victoria quickly realizes she is making the exact same mistake Ted made six years earlier.  She decides she has to go out to the Hamptons to see Klaus, and officially end things with Ted forever.  As she leaves, Victoria passes one thought to Ted.   The reason that they didn't make it had nothing to do with long-distance, it was Robin.  The whole thing where Ted, Barney, and Robin pretend to be just friends with no real feelings attached was a mirage, and it couldn't last. 
Inside the Benihana, it turns out Barney was up to his old tricks.  He had actually taken a class on hibachi cooking, and could easily accomplish the tasks needed to win the bet.  As Lily is watching Barney make all of the moves of a real Benihana chef, she realizes she has only one last resort.  She flashes Barney to distract him, causing him to drop the shrimp.  Barney finally got a glimpse, but he loses the bet and throws on Marshall's duck tie. 
This was one of the best episodes in a really long time.  The whole ducky tie saga (which I don't really feel I did justice with in my recap) was a really funny story on par with some of the one-off episodes such as "The Pineapple Incident."  As I stated before, the return of Victoria turned into a very powerful encounter.  Victoria is clearly not the mother, but as I predicted it would appear she had a big effect on Ted's life going forward.  She laid it out on the table that there are unresolved issues between him, Robin, and Barney, and that he can't move on until those issues are taken care of. 
My hat is off to Craig and Carter for bringing us a fantastic episode.  A couple of side notes:  Nazanin Boniadi returns next week as Nora, and Katie Holmes has been signed on to be "the slutty pumpkin" in a halloween episode this October.  The legend continues Monday at 8/7c on CBS.