Victoria Justice Reconnects With Ex-Boyfriend At Sundance 'The First Time' Screening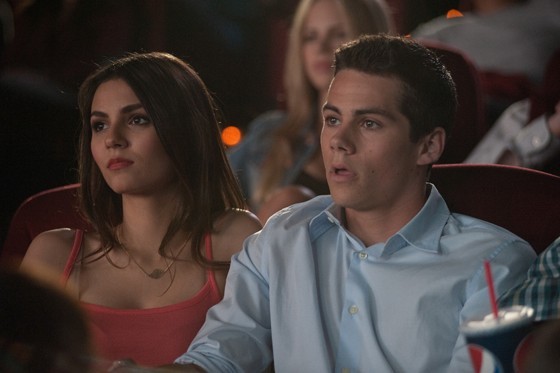 Vicotrious star Victoria Justice is at the Sundance Film Festival with the film The First Time. Coincidentally, she ran into an old boyfriend over the weekend.
"My first time at Sundance seeing The First Time for the first time and seeing my first boyfriend at the screening coincidentally," Justice said. "He was just here with school I think. He's a really huge film buff. Even when we were dating and I was young, 15 to 16, he's just always loved film so that's something we have in common. It was crazy seeing him here. It's really cool. I just tweeted a picture of us together."
The First Time is about two high schoolers (Brittany Robertson and Dylan O'brien) exploring having their first sexual experience together. Justice plays a friend who has had bad experiences with boyfriends. She hopes the film sends a good message for her fans.
"What the characters learn from it and what I think a lot of people should take away from it is that I feel like you should wait a little longer to have your first time with someone," Justice said. "That's my own opinion. Although they had this instant chemistry and that's really cool and real, it is real. In my life, I like to take the time to really get to know someone. Not even talking about being intimate or whatever, but before I kiss someone or make the first move at all, I like to have formed a connection, become really good friends first. That's my opinion."
The film marks a transition for Justice from Nickelodeon, and got her thinking about romance too. "It's a step in the right direction I feel. It's kind of the road I want to go down. I love how real she is and how she's not afraid to talk about how she's been screwed over by boys and how she's totally over them and forms a connection with Brittany at a certain point. I definitely don't know all there is to know about falling in love and relationships. I think I still get really confused and I'm like, 'What is this all about? What's happening?' Also when was the first time and all that jazz, it's all so complicated always I feel."