VH1's "Hip Hop Honors" & Ice-T's "Rap School" Premiere Oct. 17
-VH1's "Hip Hop Honors" Airs Oct. 17 at 9pm (EST)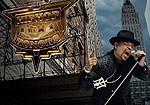 VH1 pays homage to the hip hop pioneers who transformed the genre into a true cultural phenomenon with the third annual "VH1 Hip Hop Honors." Hosted by Ice-T, this year's "VH1 Hip Hop Honors," will pay tribute to Wu-Tang Clan, Afrika Bambaataa, Russell Simmons, MC Lyte, Rakim, Beastie Boys, Ice Cube, and Eazy E. The VH1-created awards special honors hip hop's pioneers and luminaries who have transformed this musical genre into a cultural phenomenon. The music and influence of each of the honorees will be recognized through performances by classic artists in collaboration with today's hottest new talent that include Lil Kim, Diddy, Fat Joe, Lil Jon, Da Brat, Xzibit, Talib Kweli, Remy Ma, Q-Tip, Common, The Roots, George Clinton, Young Jeezy, Erykah Badu and KRS-One.

-Ice-T's "Rap School" Premieres Oct. 17 at 11pm (EST); Moves To Fridays At 9pm Starting Oct. 20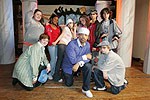 Remember back in the day when school was all about reading, writing and arithmetic? No more. A group of well-heeled students are getting schooled in a whole new way -- learning how to bust rhymes with one of the world's greatest rappers. Ice-T invades New York City's exclusive York Prep on Manhattan's Upper West Side to teach a class of 7th and 8th graders how to become fresh MCs.

For more info visit VH1.com.
For more on Ice-T go HERE.