VH1 Rock Docs Celebrates The 40th Anniversary Of The Monterey International Pop Festival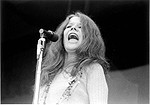 The original documentary "Monterey 40" Premieres Saturday, June 16 AT 9 PM ET/PT. The film is set to premiere on VH1 Classic and will be simulcast on VH1. The Monterey International Pop Festival was nothing short of a defining moment in rock and roll history. The three-day event, held June 16-18, 1967, ushered in the Summer of Love and featured an unprecedented bill of racially, musically diverse acts that showed rock's power to change the world.
"Monterey 40" will tell the story of this historic event from conception to event to aftermath to lasting impact from the perspective of musicians, organizers, audience members and visual documentarians. The film will include new interviews with
Paul McCartney
,
David Crosby
,
Michelle Phillips
,
Pete Townshend
,
Grace Slick
,
Bob Weir
,
Micky Dolenz
,
Ravi Shankar
,
Clive Davis
,
Jann Wenner
and
Paul Kantner
among others.
Photo Credit: Elaine Mayes / Ovoworks, Inc.: Montery 40_VH1_Janis.jpg: Janis Joplin(Pictured) performs with Big Brother and the Holding Company during the Monterey Pop International Music Festival in June of 1967.