VH1 Counts Down The Greatest Internet Superstars, Tonight At 8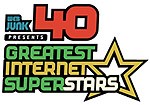 The Numa Numa kid, Gary Brolsma, reigns as the #1 internet superstar on VH1's countdown special,
Web Junk Presents: 40 Greatest Internet Superstars
, premiering Friday, March 23 at 8 PM (et/pt).
VH1 brings together all of the greatest internet personalities that populated email inboxes, entertainment sites and blogs all over the world, with its latest countdown of the 40 most memorable internet stars. From the Chinese
Backstreet Boys
to Perez Hilton to Andy Samberg and
Chris Parnell
's rendition of
Lazy Sunday
, it's a who's who of web fame and infamy. Over 175,000 online votes to webjunk.tv were logged to determine the list.
The 2-hour countdown special,
Web Junk Presents: 40 Greatest Internet Superstars
, includes new, exclusive interviews with the web stars themselves, plus tons of new footage. You'll find out the real stories behind all these homemade heroes. The top
40 Greatest Internet Superstars
were determined through online viewer voting at
webjunk.tv
, the companion site to VH1's "Web Junk 20." The site serves as a one-stop destination for the best and latest viral videos.

The Top 40 Greatest Internet Superstars:
Gary Brolsma -- Numa Numa kid
Ghyslain Raza --
Star Wars
Kid
Denny Blaze -- The Average Homeboy
Jessica Rose -- lonelygirl15
Tila Tequila
Perez Hilton -- gossip blogger
Chinese Backstreet Boys
OK Go
Tom Anderson -- Myspace Tom
Ask a Ninja (Kent Nichols & Doug Sarine, creators)
Mike Caracciolo -- Kid from Brooklyn
Fritz Globe & Stephen Voltz -- Diet Coke and Mentos guys
Kyle MacDonald -- One Red Paperclip
Noah Kalina -- Noah Take a Picture Everyday
Jay Maynard --
Tron
Guy
Andy Samberg and Chris Parnell -- Lazy Sunday
Lee Paige -- cop shoots self
Gino the Ginny
Tyson the Skateboarding Bulldog
Leslie Hall -- Gem Sweater
Little Superstar
Alabama Leprechaun
Matt Harding -- Where The Hell is Matt?
Jack Rebney -- RV Man
Mister Pregnant
geriactric1927
Brian Atene --
Stanley Kubrick
audition
Stevie Ryan -- Little Loca
Chuck Norris
Karyn Bosnak -- internet beggar
Spongemonkeys
Ryan Holt -- balloon prank victim
Mahir Cagri
Chad Vader (Matt Sloan and Aaron Yonda, creators)
Jenni Ringley -- JenniCAM
Andy Milonakis
Rags the boxing kangaroo
Cindy Margolis
-- World's Most Downloaded Woman
Ethan Chandler -- Bank of America singer
Joanna Repsold – ate a praying mantis