Veteran Actress Anne Francis Dies At Age 80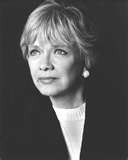 Veteran actress Anne Francis, best known for film roles in the 1950s, including the lead in 'Forbidden Planet' opposite Leslie Nielsen, has died of cancer.  She was 80 years old and had been suffering from the disease since 2007.
Francis first became famous in the 1950s in several lead parts opposite such leading men as Nielsen, Spencer Tracey, Paul Newman and Glenn Ford.  A stunningly beautiful blonde with big eyes and a memorable beauty mark, Francis made a name for herself in television after her movie roles dwindled.
She was the female lead in the 1965-66 series 'Honey West' in which she played a sort of female James Bond.  She blazed the trail for many a female action hero.  The role nabbed her a Golden Globe and an Emmy nomination.  She also made appearances in such series as 'Mission Impossible,' 'Gunsmoke,' 'Ironside,' 'Murder, She Wrote' and 'Home Improvement.'
Perhaps her best TV performance came in one of the most memorable episodes of 'The Twilight Zone' in 1960.  She appeared in 'The After Hours' about a woman trapped in a department store after it closes – when the mannequins seemingly come to life.  Her performance was astonishingly lively and memorable for an anthology TV show.
Francis also memorably appeared on the sitcom 'The Golden Girls' in the late 1980s as Trudy, a high school friend of Dorothy's (Bea Arthur) – who keeps up the tradition of practical jokes to the point of faking her death.  Her last appearance was on the CBS drama 'Without a Trace' in 2004.