Vertical Horizon Rocks Mohegan Sun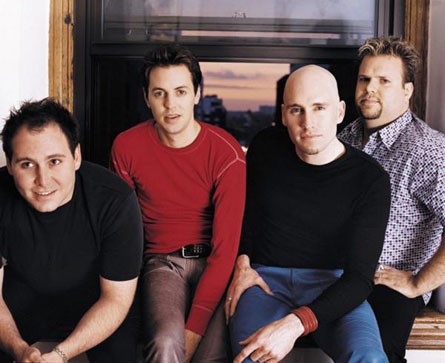 Mohegan Sun, located in Uncasville, Connecticut, is best known for its casinos, gambling and trendy shops, but there is a hidden gem called the Wolf Den that houses some of the industry's hottest music of the 80's, 90's and beyond. The Wolf Den is located on the heart of the casino floor in the beautiful Casino of the Earth.  The venue itself is unique in the fact that it's a small intimate venue so seating is on a first come, first serve basis only. On this night, I was there to see Vertical Horizon. The band has seemed to become regulars, as they've played there at least once every year.
Concertgoers who plan on seeing their favorite act perform there must wait on line and be there by six p.m. to be able to see the concert and secure a seat.  One person can hold up to four spots in line, but all members of your party must be present when ready to be seated. It's right of in the middle of the action, with spectators flocking from their machines on the casino floor to see what act is currently playing. I arrived at the venue at two-thirty and hung out with the fans and listened to sound check, which is a perk of having an open venue like that.  The band played some new and old songs and then came out to greet the fans waiting in line.
Vertical Horizon took the stage at 8 p.m. and was the only performer of the night.  The set list was similar to the previous night's show with a few surprises.  The band opened with "All Is Said And Done," which has become the band's intro song and with great energy it started the night off right.  The band continued their momentum with the sexy lyric-laden "Send It Up," followed by "When You Cry," the first single off the band's fourth album "Go" was another energetic rocker. You can tell within the first few minutes of the start of the performance that both lead singer Matt Scannell and the crowd knew it was going to be a good night. The energy was off the charts.  In between songs, Scannell chatted with the crowd a bit before introducing his next song a love song, about being in love being enamored by it but also suspicious of writing the song itself. He described being skeptical about love songs and their truth and validity but wrote this during a very happy time in his life. "The Lucky One", an up-tempo feel good song with a beautiful melody and infectious chorus, was certainly a crowd-pleaser.  Scannell introduced the next song by inviting a friend up onstage to play with him, and together they rocked out with the rest of the band and crowd as Scannell sang the band's hit "You're A God" off of the band's multi-platinum album Everything You Want By this time, Scannell had gotten to the crowd, making them comfortable enough to sing along.
Next, Scannell slowed things down a bit with "Forever," a touching ballad for anyone whose every lost someone. He dedicated the song to his grandmother, who was in attendance, and told the story of missing her birthday on the Fourth of July due to a USO trip overseas to sing with the troops. He made up for it though when the soldiers serenaded her singing "Happy Birthday".  Scannell then sent the band away and stood on stage with just his guitar to play a song acoustically. He performed" Echo," a rare gem off of their album Go which is hardly ever performed live to the delight of his fans. Next was another song about relationships, love and loss. "The Middle Ground" is about a relationship, when what you want is not the same as the other person. It's being torn about making a decision whether to stay or to go. Its message is more about power and triumph than loathing and melancholy.
Speaking of triumphant, "I'm Still Here" is a triumphant song about overcoming obstacles, inspiring confidence or just curing an illness in Scannell's case. Scannell went on to explain a line in the song that says, "Maybe tonight it's going to be alright. I will get better." Saying all he wanted was to get his fever down, he wanted an Advil.  Scannell then surprised the crowd by pulling out "Finding Me," another rarely played song in his repertoire.  The song is an introspective and inspiring rocker with a great riff and bass line.
Next, Scannell gave the crowd a" pop quiz" when he performed his hit single "Best I Ever Had. The tune that was covered by country-crooner Gary Allan, and is always a crowd pleaser with the audience and Scannell had them singing along in no time. He went back to story telling for his next song and described that much of his songwriting is true to life and about those relationships which often go "I love you, you left me now I'm pissed." He said he tried to get away from that by writing his next song about a boy who's lost and those who go out to search for him, but found out all hope was lost when he realized the title of the song was "Save Me From Myself."
After thanking the crowd to a standing ovation and thunderous applause, a short break and a little tease, Scannell and company were back for an encore, performing their hit and title track "Everything You Want" from the band's multi-platinum album of the same name. Once he played that riff, the crowd went wild and started singing the song along with the band. Scannell capped off the night with a compilation of his first single "We Are" off the band's album Everything You Want and Pink Floyd's "Comfortably Numb" Scannell's voice and killer guitar solo made it a stunning performance.  The band then introduced themselves one last time to a standing ovation and applause from the crowd.  They proceeded to do a meet and greet to the delight of new and old fans alike, meeting with them for pictures and autographs where all including this reviewer had a good time.