'Veronica Mars' First-Look Thanks Fans For Kickstarter Success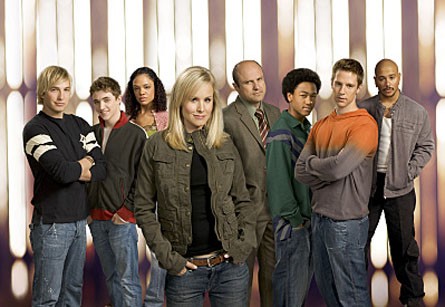 The Kickstarter for a Veronica Mars film is easily the most successful crowd funding effort to date after raising $5.7 million dollars and almost tripling their goal of $2 million. Now, fans who have offered their hard-earned money to the production have been given their first taste of the first new Veronica Mars material in over six years.
In a five minute preview that was first shown at Comic-Con, we are given glimpses of production staff and stars watching their Kickstarter begin and rack up the big bucks. Later, some of the high-end backers are shown on the set of the film working as extras - a perk that cost a cool $2,500.
The first look also offers a few juicy details on the movie's story: Veronica (Kristen Bell) is now an attorney in New York, 10 years after she graduated from high school. It's then that she's invited back to Neptune, California, for her school's reunion. Despite claiming she's not doing private investigation work anymore, Veronica is lured into a case - about what, we don't know. However, all of her old high school "buddies" are back to cause consternation.
Veronica Mars is set for an early 2014 release and is directed by series creator Rob Thomas.