Verizon V Cast Subscribers Can Now Watch Cartoon Network Shows on Their Phones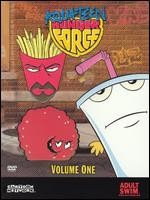 Verizon V Cast customers can view content from Cartoon Network, Adult Swim and Turner Classic Movies on their cell phones. Cartoon Network will provide customers with video content from the network's original series, including
The Grim Adventures of Billy & Mandy
,
The Powerpuff Girls
,
Foster's Home for Imaginary Friends
,
Codename: Kids Next Door
and
Dexter's Laboratory
.
V Cast customers who want to view edgy animated comedy and action series can download content from Adult Swim, Cartoon Network's late night sister service with content from original productions, including
The Venture Bros.
,
Aqua Teen Hunger Force
,
Sealab 2021
and
Harvey Birdman, Attorney at Law
.
In addition, V CAST customers can continue to access CNN video-on-demand clips from Now in the News (updated hourly), as well as additional programming offered from categories including Top Stories, Business News, Sports, Politics and Entertainment.