'Veep' Takes On Political Comedy - And Provides Louis-Dreyfus With Another Plum Part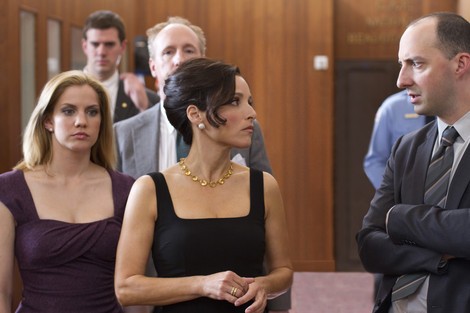 Do you enjoy 'Curb Your Enthusiasm'? Do you own the entire DVD collection of 'The West Wing'? Can you recite phrases like "the master of his domain" and "maybe a dingo at your baby"? Then 'Veep' may be the show for you.
It's got a bonafide TV star in the seemingly ageless Julia Louis-Dreyfus, it's got White House sophistication, and perhaps most important of all, it's got lots of hilariously awkward moments.
In the first three episodes available for preview, 'Veep' is clearly on the path to finding its groove, a balance of chaotic, political mumbo-jumbo coated with profanity, cringe-inducing awkwardness and even potential office romance.
Louis-Dreyfus stars as Selina Meyer, a rising politician and the relatively new vice president. The job, she finds, isn't everything it's cracked up to be: the president barely pays any attention to her at all, scandals are invented between her and the first lady, and her staff, while admirably devoted, finds it difficult to cover up her faux pas and occasional social ineptitude.
In the pilot episode, Selina makes a politically incorrect comment that leaves her staff scrambling to save face. Her chief-of-staff Amy (Anna Chlumsky) and her right-hand man Gary (Tony Hale) often take the brunt of her frustration as she tries to correct mistakes. If there's one "villain," it's Jonah (Timothy C. Simons), a white house liason who touts his "superiority" every chance he gets.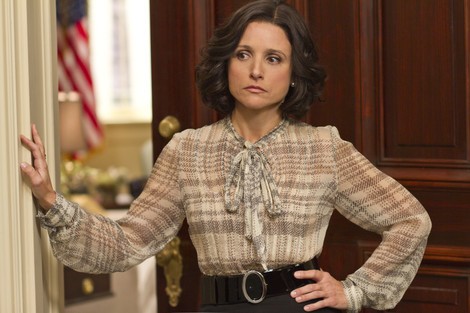 Created by Armando Iannucci, the Oscar-nominated screenwriter of 'In the Loop,' 'Veep' often centers on the vice president's struggles because people can identify with how she is manipulated by the often sensational media, Iannucci tells HBO. "There's something funny about seeing that happen to someone who is quite intelligent and talented, just getting pushed around by this," he says.
Iannucci says that Louis-Dreyfus has that "creative, comic sensibility" that fits the character perfectly. HBO suggested that he speak with her about the part, and she loved the script.
Louis-Dreyfus says she loved 'In the Loop' and playing a vice president appealed to her immediately. To prepare for the part, she met with people on Capitol Hill, and even talked with a few vice presidents. She says, "People were surprisingly willing to share, but even when they didn't, what was not said was more interesting than what was said. It's all fascinating."
The first episodes of the show, which premieres April 22 on HBO, stick close to Selina's office, but future installments will branch out a bit. We'll follow Selina as she travels, Iannucci says, and we'll see her house and meet more of her family.
And even as she occasionally struggles with the press or other debacles, the show features her survivor streak. As Louis-Dreyfus says, "Someone who's in the position to become vice president is a political animal. You can be sure of that. And you can also be sure it wasn't their aspiration to become vice president."
You can check out 'Veep' for a string of eight episodes beginning this Sunday at 10pm on HBO.