'Veep' Star Reid Scott Goes Turbo In Netflix's 'Turbo FAST'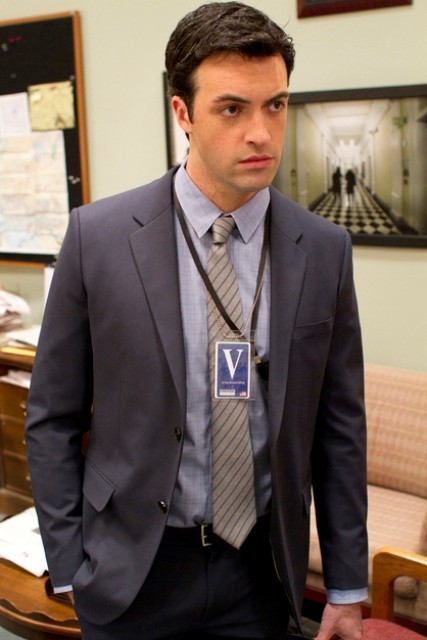 Reid Scott charmed us as Brendan Dorff on TBS's quirky comedy My Boys. Now he's lending his voice to a super-quick snail as the title character in Netflix's first kid-oriented original series, Turbo FAST, a spinoff from the popular Dreamworks film. BFTV had the chance to chat with Reid recently about getting animated, and also snagged an update on his current TV gig, HBO's political laugher Veep.
"It's always been my dream to be a cartoon, so when producer Chris Prynoski came to me to play the part – we worked together previously – I jumped at it," he told us. "Nothing is better than showing up twice a week, acting like a 12 year-old for two hours and then going home."
Compared to live-action acting, he called voice acting "Completely different.  You're using such different muscles and you rely on physicality in live action, but in animation, you totally throw that out the window.  But somehow they're both as satisfying."
Reid takes over for Ryan Reynolds, who voiced Turbo in the movie, but told us that you can jump onboard the show even if you're a newcomer. "I did see the movie and studied it for character traits, but as an audience member you don't necessarily need to see it to enjoy the series," he explained. "It would enhance the series, but the two are fairly autonomous."
With Turbo FAST premiering new episodes throughout the year, we asked Reid if there was one that particularly stood out to him. "There's an episode called the 'Clam Squatch' - episode five, which will be available on Christmas Eve - that had the entire cast double over in laughter," he revealed, "because it was so silly and fun."
You can check out the trailer for the series below.
Back in the non-animated realm, viewers can see Reid continuing his role as Dan Egan when HBO's Veep comes back for its third season at an as-yet-unannounced date next year. "We're actually two-thirds of the way done shooting," he told us. "Selina is on the campaign trail from the get-go – hard and fast in pure Veep fashion, but it's a little more difficult than the team anticipates."
"I just did a couple of movies in the off-season," he continued. "Sister, which will start to make the festival rounds in 2014, as well as another film, A Better Man - written and directed by my Veep co-star Matt Walsh - which will also hit in 2014."
When he's not voicing animated animals or playing harried political operatives, what is Reid watching? His taste is pretty varied. "I love The Americans. I think it's one of the best shows on TV.  I also love Boardwalk Empire and Game of Thrones," he told us. "As far as movies, I thought Ender's Game was fantastic.  I'm a huge sci-fi junkie and thought it was a great interpretation of the novel, which I read as a kid.
"I'm a huge fan of Paul Newman [and] Clark Gable," he added. "Everything that Michael Fassbender touches is elevated.  He's one of the finest actors we'd had in a long time. "
And of course, we couldn't help but chat with Reid about My Boys, one of the best under-the-radar comedies in recent memory. "People ask me about it all the time. It's a warm and comfortable feeling to know that people loved that show," he reflected. "Brendan was a real pleasure to get to play. I loved where the show was going, and personally thought that it could have gone another four seasons."
Turbo FAST launches on Netflix tomorrow; season three of Veep begins on HBO in 2014. You can also find Reid Scott on Twitter (@ReidScott_).
(c)2013 Brittany Frederick. Appears at Starpulse with permission. All rights reserved. No reproduction permitted. Visit my official website and follow me on Twitter at @tvbrittanyf.