'Veep' Star Julia Louis-Dreyfus Gets Naked & Clowns Around In The May Issue Of GQ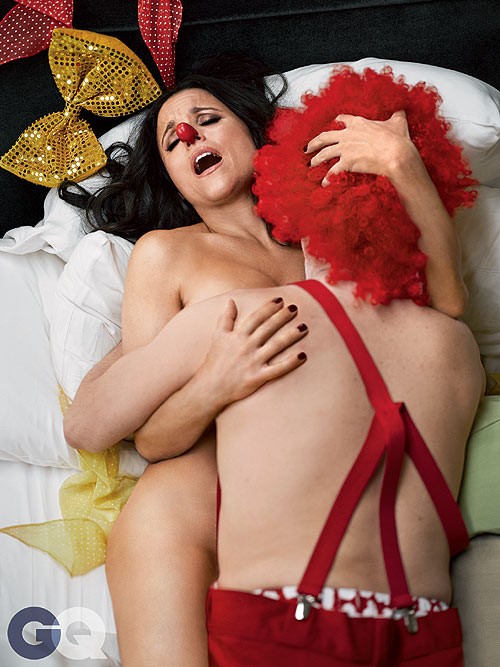 Julia Louis-Dreyfus clowns around in the May 2014 issue of GQ magazine, landing a spot on the magazine's annual 15 funniest people list for her starring role in HBO sitcom Veep.

The actress's pictorial takes her from dancing at a clown party to a nude shot in the throes of passion. Next thing you know, she's got a clown baby (see all the pics here)

Julia discussed her "Veep" character, Vice President Selina Meyer, in the issue, and reveals that she has no personal experiences that she puts into her character's episodes of rage.

"When you lose your moral center, it's easy to get pissed off," she says of Selina's temperament. "Selina has been eaten by the machine, but also, she is the machine. She's a mangled, bloodied, pulpy working mess."

The 53-year-old former "Seinfeld" star also says that nothing's happened in her own life that brings her character to life.

"I don't have a sh*t-ton of baggage," she says. "There's not some grotesque, dark thing."

Check out her full interview and more clown photos in the May issue of GQ magazine, on newsstands Tuesday, April 29.