'Veep' Season 2 Preview: Great Cast, Incredible Guest But Needs Writing Support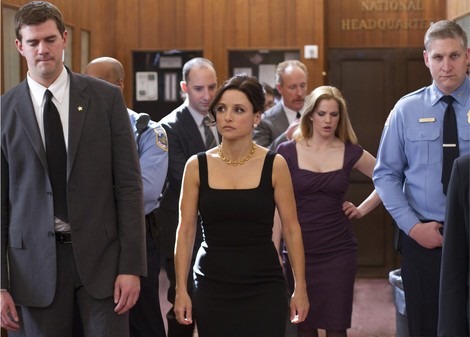 Parks and Recreation is a show that benefits from binge viewing, especially in seasons one and two, when you see the quality shoot up spectacularly. I was hoping for the same with HBO's Veep, which has its second season premiere tonight, which like Parks and Recreation has assembled one of the best comedy ensembles in all of television.
Alas, if anything, I think I laughed at Veep less in its first four episodes than I did all of last season when I found the show watchable, but not always enjoyable.
When the season opens, Vice President Selina Meyer (Julia Louis-Dreyfus) is on a bit of a hot streak. During the midterm elections she wound up scoring higher than the President in several popularity polls and he even, yes, called her (No, we didn't see him on screen).
While I vaguely remember many of the ongoing plotlines from last season, it seems like there's a greater emphasis this season to have stories carry over from episode to episode. One of Selina's staff, for instance, has to deal with an ailing father, Mike seemingly is going broke and yes, Gary of all people has a girlfriend—though when you meet her, you'll realize she's not really the catch you'd expect her to be.
One of the episodes even starts to veer into a dark and dramatic territory when Selena, while celebrating the release of some American hostages that she helped engineer, also realizes that the rescue resulted in the wounding of an American soldier. Unfortunately, Veep chooses not to play the moment as real and instead it's just another thing for Selena to obsess over from her egoistical worldview. Sure, not all comedies need to try and be serious, but this seemed like an awfully big opportunity for the show to shrug off.
The cast still remains incredible and the chemistry between many of the leads (such as Reid Scott and Anna Chlumsky) is real and raw. The guest stars this season are a comedy dream with Kevin Dunn and Gary Cole joining as the President's chief of staff and his chief strategist, respectively. But, like most of the cast, many of their one liners fall flat and the talent is wasted on poor scripts.
Awarding Selina some moderate amount of success early in the season is a smart play as it allows Selina to have access to more power and therefore—potential storylines. The writing, however, still remains relatively flat and the great comedic talent isn't utilized to its full potential.
Like Selina though, I have ongoing hope and optimism for that rare second season that turns a moderately ok show into an incredible one.
Veep premieres its second season tonight at 10:00 pm ET on HBO.