Vanessa Minnillo Tweets Pregnant Bikini Photo & Reveals The Sex Of Her Baby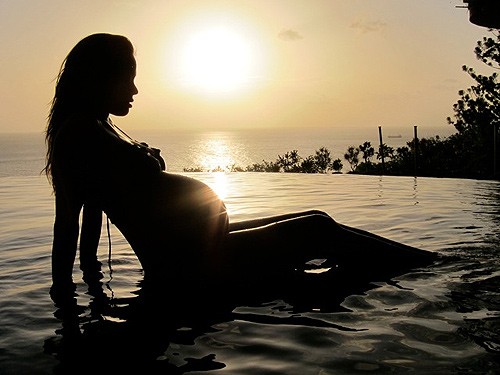 A very pregnant Vanessa Lachey tweeted a photo taken by husband Nick Lachey showing off her growing baby-bump in front of a gorgeous sunset in St. Lucia.

The couple traveled to the island paradise for their "babymoon" - that one last vacation taken by expecting parents before the chaos of parenting officially begins.

Vanessa and Nick also made a big announcement this week - it's a boy.

The former MTV VJ announced the news on her website Wednesday, saying, "It's a BOY. Nick and I are incredibly excited to share the news that we are expecting a baby boy. We can't wait to meet him soon!!!"

Vanessa asked fans to post pictures of their own baby bumps to Twitter on Tuesday, prompting her to upload her pregnant sunset image.

"Thanks for sharing all your Beautiful baby bumps & embracing your bodies!" She Tweeted. "As promised, here's one @NickSLachey took" (above).

Vanessa also shared a sexy image of her beau during their vacation (below), writing, "?#Babymoon? flashback @JadeMountain! I Love my view!!! The mountains & ocean aren't bad to look at either."