Vanessa Hudgens Talks 'Sucker Punch,' Michael Caine, Zac Efron & Quentin Tarantino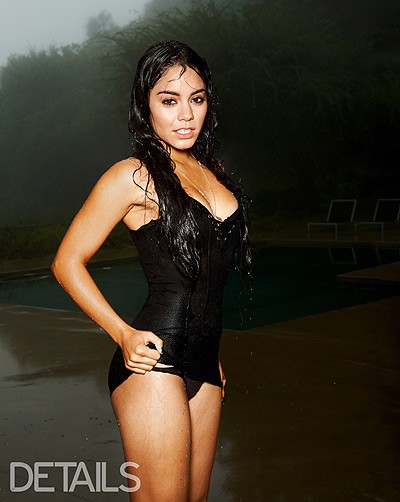 Vanessa Hudgens appears in the March issue of Details magazine and its clear this starlet, best known for a puppy-love romance with Zac Efron, has finally shed her squeaky-clean image. Hudgens can be seen in this month's Sucker Punch, a Zack Snyder film in which she plays a gun-toting asylum inmate, but right now she can be seen as an all-grown-up sex symbol!

Vanessa fidgets a lot at the beginning of the interview but says "I'm not nervous, I'm excited. I get excited. I'm, like, a very hyper energetic, crazy type of crazy. I have a lot going on. Always. I'll dance on a table sober."
Here's some more of what Vanessa told Details:

On training for this month's Sucker Punch: "We trained with Navy Seals. We were machines, You could NOT f--k with us.

On working with Michael Caine for the sequel to Journey to the Center of the Earth 3-D: "He's uh-mazing. Not only is he uh-mazingly, stupidly talented, but he still kind of hits on me. All the time. If it was anybody else, I'd be like 'Who the hell do you think you are?' But because its Michael Caine, I'm like, 'Sock it to me more, baby, come on!' I.Frickin.Love.Him."

About Zac Efron, she says the following in a hurt but hopeful way: "We're still friends. Who knows what the future will bring. We're figuring this out."

On talking to Quentin Tarantino at a post-Oscar party: "....probably after a few drinks I told him 'We've gotta do soemthing together.' ... "Slowly, I've gained balls. I used to be very shy. Nothing has happened with Tarantino yet, but I definitely tried to plant my seed. Hopefully he won't look back and think, 'Oh my God. That crazy bitch."
Check out more sizzling pics of Vanessa and the rest of her interview at Details.com and pick up the new issue, on newsstands everywhere!
Check out Vanessa's hot Behind the Scenes video:
Click for more hot Vanessa Hudgens pictures: