Vanessa Hudgens Has One Big Career Goal: Win An Oscar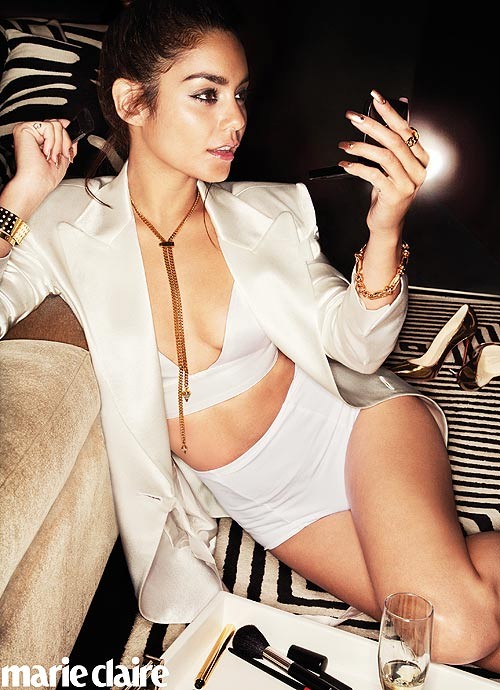 Vanessa Hudgens isn't shy when she talks about what her future goals are.

The Spring Breakers star is the cover girl for Marie Claire magazine's October issue, and in the latest edition she talks about her humble attitude toward life and how that keeps her happy. She also explained that incident at Coachella when she was spotted with a white substance that turned out to be white chocolate and not something else.

"A sense of knowing I'm part of something bigger than myself has allowed me to enjoy life more," she explains about her main focus in life. "And not worry about the little things. Like paparazzi."

In fact, nothing can get her down -- she's had a successful career and is still growing, and if anyone doesn't like it, she doesn't let it affect her.

"I am so comfortable with myself –- honing in on what I love and what makes me powerful. Things I've been doing lately, I'm super-proud of. So I don't really care if someone doesn't like it, because I love it," she shares.

"You have a choice whether you want to be happy or not. I choose to be happy. And it's been working out pretty well."

It's working out so well that she's got some big plans for her future. She says three of her future goals include, "A vintage mustang, kids, and an Oscar."

As far as that rumor that she was doing cocaine at this year's Coachella music festival? The "white substance" she was indulging in with friends was actually white chocolate.

"I couldn't do anything but laugh. It's amazing how people like to create something out of absolutely nothing. I am human like everyone else. I am aware that there are people who look up to me. When mistakes are made, they aren't intentional, and I constantly push myself to be a better person."

Check out more photos of Vanessa at Marie Claire.com and read her full interview in the October issue, on newsstands everywhere September 17th.