Vanessa Hudgens' Foot Tattoo Is Bogus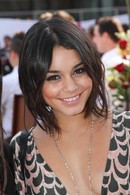 Actress Vanessa Hudgens has confirmed her new tattoo is fake.

The High School Musical star showed off an inking of a Beatles lyric on her foot during a recent vacation in Hawaii, but she has now admitted the words were written with a pen.

She tells TV host Jay Leno, "It says, 'All you need is love,' which is true... It's fake. I have this mad obsession with drawing on myself, like, I cannot help it. I draw all over my hands, all over my arms, obviously my foot. It's just fun."

Hudgens, who has several real tattoos, explains she likes to experiment before she commits to a permanent piece of body art.

She adds, "It's hard to commit to a tattoo, like, I have a few, so, when you write on yourself it's not that much of a commitment... It's more like art."