Vanessa Hudgens Demonstrates Her 'Booty-Poppin' Dance Moves For Jay Leno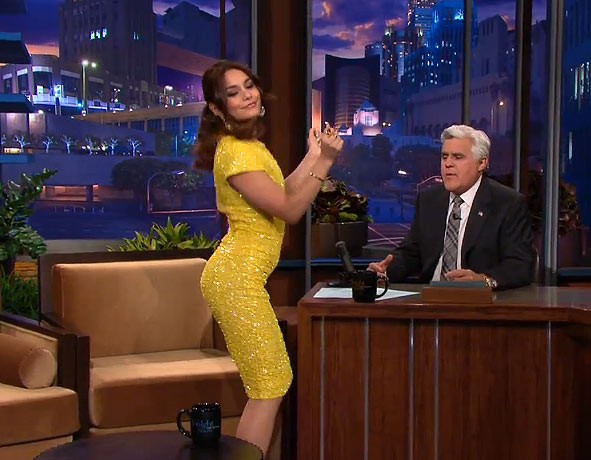 Vanessa Hudgens challenged Madonna's entourage to a dance off last month during an Oscars party.
The actress attended the Los Angeles bash with her "Spring Breakers" co-star Selena Gomez and told "The Tonight Show" host Jay Leno that the two had a blast showing off their dance skills.

"Me and Selena Gomez… went to the Vanity Fair (party) and we didn't really know a lot of people there, so we decided to duck out and go to a different party," she says, "which was the Madonna party.
"...So she's there and she has her dancers there. Their dancing, getting the party spiced up… so I was like, 'I gotta jump in on this action, they need some of Vanessa up in this,'" Vanessa said.
"So I had a dance-off with her dancers and I took the prize! People were literally like, 'you were so hot!'"

The 24-year-old "High School Musical" star wore a yellow sequined dressed and demonstrated her 'booty-poppin' dance moves at Leno's request during her appearance on the show Wednesday night.

"It's one of my most prideful moments," she added.

"Spring Breakers" opened in theaters everywhere March 22.