Vanessa Hudgens Dazzles In This Month's Harper's Bazaar Arabia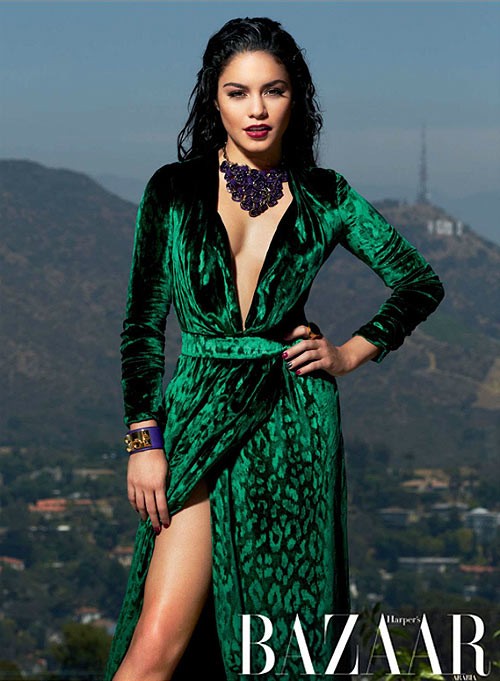 Vanessa Hudgens heats up the Middle East on the cover of the December Harper's Bazaar Arabia.

The 23-year-old star looks stunning in her shoot for the Dubai-based version of the magazine; and she talks about her experiences working on her upcoming films Spring Breakers (March 2013) and Gimme Shelter (no release date yet).

"I've never been on spring break," she reveals. "I've never gone to college or had this group of girlfriends to go away with. I became very, very close with these girls [co-stars Selena Gomez, Ashley Benson and Rachel Korine]. We had such an amazing experience together; it felt like it was our own little spring break. We allowed ourselves to let loose and push each other and see how far we could take it."

Vanessa and her new pals play a group of girls who rob a restaurant in order to fund their trip to Florida for spring break but find themselves mixed up with a drug dealer (James Franco). The film was written and directed by Harmony Korine (Rachel's husband), who wrote the acclaimed 1995 film Kids.

"[My dad] was very excited when he saw the name Harmony Korine on my audition list. He knows that this is my passion and my career," says Vanessa. "He definitely is not one for standing in the way. Of course he has his concerns and wants to be a protective father, but my parents are so amazing, they have always given me the freedom to fly."

Vanessa also talks about her make-under for Gimme Shelter (not to be confused with the 1970 Rolling Stones documentary), in which she cut all her hair off to play a pregnant, homeless teen seeking her well-to-do father (it's based on a true story).

"I had to chop off all my hair and live in a pregnant woman's shelter for about two weeks before we even started filming to get me in my headspace. It was a bit of a shock. It's a world that I've never had a chance of looking into, let alone be a part of, and I remember calling my mom on the first night, and I was like "Mom, what have I gotten myself into?" she reveals. "It was a lot of fun after I got past those initial feelings of shock at the environment."