Van Morrison To Release 'Keep It Simple,' April 1

Few singers know as many paths to the heart as
Van Morrison
. The Rock and Roll Hall of Famer has spent most of the past five decades seeking and discovering new inroads to that spiritual core.
By the time he rose to the fore of Britain's nascent blues-rock scene as leader of
Them
, Morrison had already pulled years in the trenches, singing skiffle, country and rhythm and blues tunes with some of Belfast's cagiest combos. He's journeyed far and wide since, but inevitably, the man
Bob Geldof
called "the one true genius in Irish music" has invariably come back to the philosophy summed up in the title of his new Lost Highway album --
Keep It Simple
.
"It's just a song about how everything's gotten now so complex and how things have become so complicated and nothing's easy to do anymore," Morrison says of the title track, a statement of purpose that helps define the disc. "So the song's a kind of prayer – or what have you – let's hope we can get back to something simple, otherwise, we're screwed."
Keep It Simple
is practically bursting with declarations that listeners don't need to submit to that sort of treatment -- and, for those willing to delve beneath the surface, it's also peppered with bits of counsel about breaking free from it. He serves notice of his intentions from the get-go, opening
Keep It Simple
with the low-slung, harmonica-laced "How Can a Poor Boy" -- on which Morrison preaches the blues to the great unwashed, fully aware that he's taking on non-believers, but willing to believe that his message will hit home with at least a few of them.
That attitude pervades Keep It Simple, a disc rife with eureka moments and instantly relatable emotion. On "School of Hard Knocks," Morrison offers a challenge to anyone who hasn't been educated in that hardscrabble fashion, waxing slyly pugnacious but tempering the gruffness with a gently swinging melody nudged forward by his languid delivery. On "Don't Go to Nightclubs Anymore," an organ-drenched slow-burner that offers a no-regrets look back at days (and late nights) of yore, he adopts a bloodied-but-unbowed tone that anyone with closing-time battle scars will certainly understand.
That depth of feeling has characterized Morrison's records from day one. Whether sojourning into improvised music's outer limits on the classic 1968 song cycle Astral Weeks (which scored the number-two spot on Mojo magazine's 100 Best Albums of All Time) or wrapping listeners in the reflected warmth of 1970's
Moondance
, he's never shied away from pouring blood, sweat and tears into every note.
Passion may well be the only given when it comes to Van Morrison's work, though. He's explored his Celtic roots extensively -- most notably on 1974's
Veedon Fleece
-- and ventured deeply into the realm of spirituality. That spirituality permeated much of his work in the late '70s and '80s, albums like
Poetic Champions Compose
and
Common One
, the latter of which the legendary critic Lester Bangs classified as "holy music."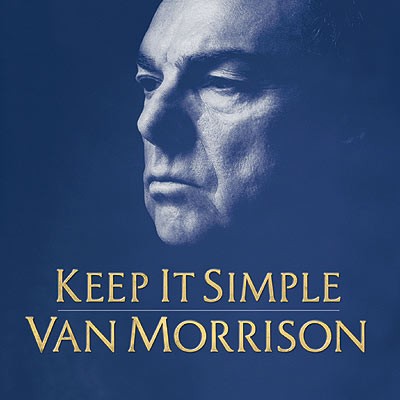 That phrase could easily be attached to just about everything Morrison has created since. While he ventured away from the overtly spiritual on discs like
Too Long In Exile
(on which he teamed with kindred spirit
John Lee Hooker
) and the jazzy
How Long Has This Been Going On
(a collection that teamed him with longtime foil
Georgie Fame
), he's remained dogged in expressing his spirit -- whatever the means of delivery.
"It's not going to be the same every time – you have to go through the ups and downs," is how Morrison details his own modus operandi. "It's ups and downs, death and rebirth. It's not going to be easy -- unless you want to be doing the same thing at the same level all the time. I'm not relying on what I did years ago. I'm not a greatest hits act. That's the difference between me and most of what's going on in pop music."
That's certainly evident throughout
Keep It Simple
, a self-produced collection that points up Morrison's awareness that the details are every bit as important as the big picture. The elegiac underpinnings of "Song of Home" are underscored by both the gospel-tinged backing vocals and spare instrumentation redolent of a misty heath -- elements that, tweaked ever so slightly, imbue the hazy "No Thing" with a good-naturedly bone-weary vibe. On the other hand, he and his core band open things up to great effect on the spiraling "That's Entrainment," a song that Morrison illuminates with precision.
"'Entrainment' is when you connect -- when you connect with the music," says Morrison, whose connective aptitude has earned him such honors as enshrinement in the Songwriter's Hall of Fame and the Irish Music Hall of Fame, in which he was the first inductee. "'Entrainment' is really what I'm getting at in the music – where I'm able to do what I used to call my thing. Entrainment is based on accessing a sort of hypnotic kind of thing – not stage hypnosis, but more like tying in with the music. Its kind of when you're in the present moment – you're here – with no past or future."
As anyone who's paid attention over the years can attest, Van Morrison has plenty of both. A quiver stocked with classic songs covering everything from Celtic soul to jazz to country standards attests to the former. And the latter? Well, one spin of
Keep It Simple
proves that Van Morrison is sailing ever forward, but unlike The Flying Dutchman, he leaves no doom in his wake, only soul and healing. The man himself, of course, would put it more simply.
"People don't remember what you did, or what happened, or how you got here," he says. "I didn't get here the easy way. It's people who don't know me. They don't actually look at what this guy's actually been through. They see the big versions of what's supposed to be me – but they don't know my biography really. That's what this whole record's about."
Listen:
"That's Entertainment"
More Van the Man:
-
Starpulse Page
-
Lost Highway's Van Morrison Page
-
MySpace Page