Van Halen To Perform At New York City's Cafe Wha?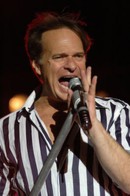 Newly-reunited rockers Van Halen will make their live return by playing an intimate gig in New York City this week, according to a report.

The band has re-teamed with former frontman David Lee Roth for a 2012 tour and album, and Rollingstone.com reports they will show off the line-up with a small concert at the Cafe Wha? venue in Manhattan on Thursday.

The club was once owned and run by Lee Roth's uncle Manny Roth and boasts an intimate 250-seat capacity.

The band hasn't played in public with the frontman since 2008.

UPDATE: the name of the band's new album is "A Different Kind Of Truth" according to several internet reports.