Van Halen Announces 2012 Tour With Teaser Video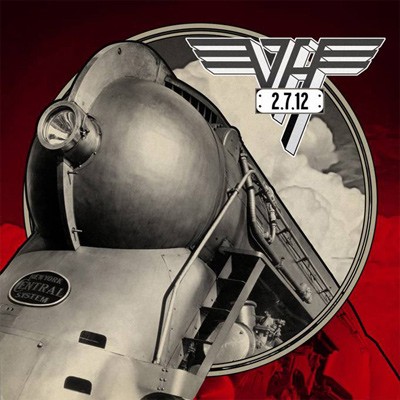 Sounds like all the recent stories of a new Van Halen album and tour are true!
In November the band reportedly signed on with legendary producer Jimmy Iovine's label Interscope Records, with news of a potential tour and new album (along with a hefty merchandising deal), and on Monday VH sent out an official announcement via their website.
The message is simple and to the point - a mix of classic hits "Jump," "Panama," and "Hot For Teacher" with images of the band rehearsing starts playing, and a ticker at the bottom announces the 2012 tour. Tickets begin going on sale January 10th (actual dates hadn't been announced as of press time, but we'll keep you updated).
The band, comprised of singer David Lee Roth, guitarist Eddie Van Halen, drummer Alex Van Halen and bassist Wolfgang Van Halen, are also reportedly releasing an a new album, but no details on the new disc have been revealed as of yet - UNLESS that image above is the new album cover and it's set for a February 7 release. Otherwise that's when the tour kicks off.
The band was rumored to play last month's Grammy Awards Nominations concert, but that turned out to be false. Maybe they'll show up and perform at the actual Grammys instead.
UPDATE: the name of the band's new album is "A Different Kind Of Truth" according to several internet reports.

Check out the video below...