'Vampire Diaries' Star Nina Dobrev Shows Off Her Sexy Yoga Moves For Conan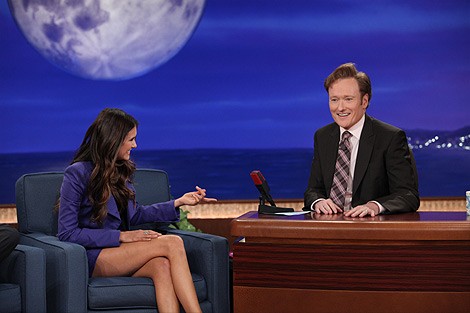 Conan O'Brien made it no secret how he feels about Vampire Diaries star Nina Dobrev on Wednesday night's Conan show.

"You're - obviously - so beautiful and you're in great shape," he says while explaining how he ran into her backstage before the show and she explained to him that she does a lot of yoga.

Conan then begged her to do a move for him, and after the gorgeous 22-year-old agreed he quickly climbed right over the top of his desk to help her do a move called "the scorpion."

Nina then stood on her head and put her feet right in Conan's crotch; after which the host ran around the stage screaming, "Yes!"

"Best job in the world!"
Nina also showed off her 'sexy vampire face' for Conan and explained that wearing the teeth actually isn't that sexy at all. Watch the videos below...