Valerie Harper Opens Up About Her Devastating Brain Cancer Diagnosis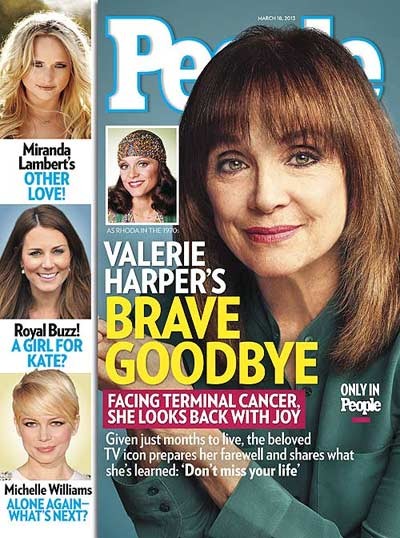 Valerie Harper is facing a devastating diagnosis: terminal brain cancer. The television icon -- beloved for her role as brash New Yorker Rhoda Morgenstern on The Mary Tyler Moore Show and its spin-off, Rhoda -- received the news on January 15, she reveals to PEOPLE in this week's exclusive cover interview. She has been told by her doctors that she has as little as three months left to live.

Harper has resolved to tackle what little time she has left with the same wry humor, grace, and plucky pragmatism that has endeared her to generations of fans. "We spend our lifetimes thinking, 'I'm never going to die.' But cancer says, 'Hey, not so fast.'" Resolved to face her last days with courage and humor, "I don't think of dying," says the actress, 73, who previously battled lung cancer in 2009. "I think of being here now."

Valerie Harper has accumulated more than four decades' worth of television memorabilia during the course of her extraordinary career, and right now much of it is cluttering the dining room of the cozy 1930s Spanish-style bungalow she shares with her husband of 26 years, Tony Cacciotti, in Santa Monica, California. Among the keepsakes: the signature head scarves from her hit series Rhoda, her four Emmys, and nine neatly stacked piles of well-worn scripts from Rhoda and its television forerunner, The Mary Tyler Moore Show.

Harper toggles between moments of hope, grief, and no-nonsense realism. She has opted to undergo chemotherapy with a drug that has limited success in killing cancer cells because "I have a fighting chance until I'm gone," she says. Still, "I'm well past my expiration date already," she concedes given that the onset of her symptoms was more than eight months ago.

Harper also has finalized her will and is planning final arrangements, which may include scattering her ashes in the Pacific. One question upon which she refuses to focus: Why me? It's an outlook she has long maintained, says Harper's only child, daughter Cristina Cacciotti, 29. "My mother has always embraced life, no matter how bad things have gotten," she says. "I know what's going to happen, but I'm not going to focus on the end until it becomes reality."

For more from Valerie Harper, including her thoughts upon receiving the crushing news, how she is spending her remaining time, and her inspirational outlook, the 3/18/13 issue of PEOPLE is on newsstands everywhere now.

*Also In This Week's 'People'*
Heidi And Seal's New Lives: One Year Later
Dame Shirley Bassey: How Does She Keep In Shape?
Tina Fey's Life After 30 Rock
Mila Kunis On Lisa Vanderpump: "She's A Hot Little Mama. She's Got A Good Body, That One!"
Michelle Williams Is Moving On After Jason Segel: "There Were Some Things Missing"