Valerie Azlynn Makes A Welcome Return In 'Sullivan & Son' Season 2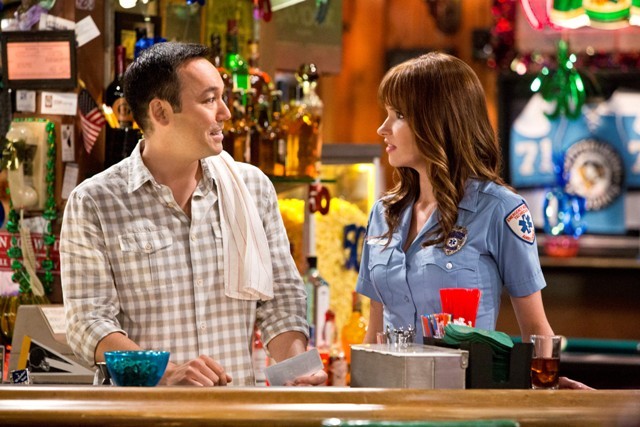 You can't have a great bar without great people in the bar. So it is for TBS's Sullivan & Son, which counts the lovely and sassy Valerie Azlynn amongst its cast. Valerie plays Melanie Sutton, the paramedic who keeps the comedy's guys in line and is clearly meant to be with Steve Sullivan (the underrated Steve Byrne). She joined BFTV recently to chat about not only the show's new season, but the upcoming release of her film Caroline & Jackie.
Caroline & Jackie is a drama film exploring the relationship between two sisters, starring Marguerite Moreau and Grimm's Bitsie Tulloch in the title roles. Valerie plays Michelle, the siblings' close friend, and the ladies are joined by David Giuntoli (Grimm) and Jason Gray-Stanford (Monday Mornings). "Caroline & Jackie was such a unique experience," Valerie said. "We sort of came up with this character through a process of improv and workshopping it with all of the other actors in the movie.
"I think this movie does a really great job of letting you feel very uncomfortable, but almost like you're part of the movie. It's an incredible experience," she continued. "I usually love everyone I work with, but I think [director-writer] Adam [Christian Clark] is really unique. He's just so different. I look forward to a lot of really cool stuff in his future."
While Valerie has been a supporting face in all sorts of films, like the big-budget disaster epic Poseidon ("That was so much fun. The director [Wolfgang Petersen] would actually give you direction over a bullhorn"), she's become a leading lady on television. She fits in perfectly in the Sullivan & Son ensemble. What's ahead this season? "I think you can look forward to Melanie maybe coming out of the uniform, Trying to discover a little bit more about herself and her dating life," she revealed. "Because obviously she's not with Steve, so what is she doing?
"It's been a really fun ride. I love how my character's kind of become a little bit of the voice of reason," she added. "Our first season, we were figuring everything out and this season, we have such a clear grasp on all these crazy characters and how they all go together."
Melanie and Steve Sullivan might not be a couple yet, but Valerie has heaps of praise for her co-star Steve Byrne. "Steve is pretty much a dreamboat," she gushed. "There's nothing negative to say about Steve. He's one of the most incredible people I've ever met. He's insanely talented. If you haven't seen his stand-up, you are missing out. It's so crazy and funny. He can really take the crowd, and from the second he walks on stage he is like a fireball of energy. You're part of his standup whether you want to [be] or not. I've seen a lot of stand-up and I think he's one of the most incredible I've ever seen. And for him to so seamlessly transition to being a leading man on a sitcom, that's really hard."
Someone else she has a compliment for is Keong Sim, who guest-starred in last week's Sullivan & Son season premiere. "I love him. Is he not as cute as can be?" she added. "Seriously, [he's] so, so nice. Crazy funny and nice. Ken Jeong [was] in our season premiere. We were really lucky to have both those guys."
So does Valerie prefer working on the big screen or the small screen? "I like doing both film and TV," she said. "There's something really cool about TV. TV, you get the luxury of having the same people around. It is such a blessing when you get a TV job. You really have a chance to get to make like work friends. I think TV is one of the few mediums where I've had the opportunity to get to know my crew members. We have such an exceptional crew [on Sullivan & Son] that works their tails off. It's just been really nice getting to make a whole new set of friends."