'Valentine's Day' & Other Movies With Star-Studded Casts

Ah, Valentine's Day weekend, the perfect time for Hollywood to embrace the mainstream audience by giving them cheesy and wonderful romantic comedies to prepare for the big day of love. This year the aptly named "
Valentine's Day
" is perfectly timed to get big notice, but one of the first things that impresses viewers is seeing the celebrity cast involved. It seems like almost every major actor is involved with this project, including
Julia Roberts
,
Jamie Foxx
,
Ashton Kutcher
,
Bradley Cooper
,
Jessica Alba
,
Anne Hathaway
,
Jennifer Garner
,
Patrick Dempsey
, and on and on with at least ten other big names connected. It got Starpulse thinking about other movies with an ensemble star-studded cast. Here's a look at some of the best movies with numerous big stars attached!
He's Just Not That Into You
The most recent movie on this list boasted a long list of celebrities that possibly only "Valentine's Day" can beat at this point. "He's Just Not That Into You" was based on a best selling novel, and the line came from an episode of "
Sex And The City
." It chronicles the lives of several average people trying to navigate and look for love in the modern world, and the rules that have been forced into the male/female dynamic for years. Starring
Jennifer Aniston
,
Jennifer Connelly
,
Justin Long
,
Ben Affleck
,
Drew Barrymore
,
Kevin Connolly
,
Ginnifer Goodwin
,
Bradley Cooper
, and
Scarlett Johansson
, it had quite the cast as you can see. Actually a few of these actors will be showing up in "Valentine's Day," so perhaps the two movies are seriously connected! It was an interesting film and did not just sugar coat relationships; several of them in the movie did not work out. It was met with mixed reviews, but there's no doubt that a great deal of its wide success came from the names attached.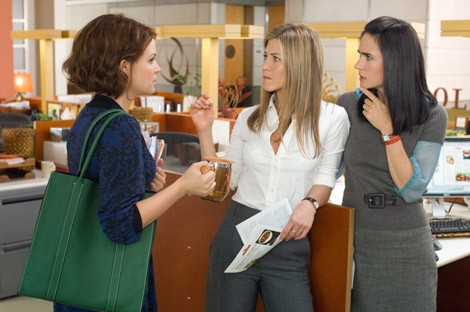 Image © Warner Bros. Entertainment Inc
Ocean's 11 series
This series actually works on two levels for big celeb casts, because when it was first made in 1960 it had a star studded cast as well (can we say the Rat Pack?). The remake in 2001 followed this tradition by sporting some of the biggest actors in Hollywood all basically palling around and having so much fun that they agreed to do two more movies. The plot is about a bunch of charming thieves who get together to pull off a major heist job in Vegas. They need eleven people to finish the job. When it was announced that
George Clooney
,
Brad Pitt
, Julia Roberts, and
Matt Damon
were all going to be in this movie, there was no question it would be getting a curious audience. Then there was great work done by the rest of the cast, including
Bernie Mac
,
Andy Garcia
,
Elliott Gould
,
Casey Affleck
,
Scott Caan
, Eddie Jemison,
Don Cheadle
,
Carl Reiner
, and Shaobo Qin. The next two films included the addition of Catherine Zeta Jones, Ellen Barkin, and Al Pacino. It's a star studded series!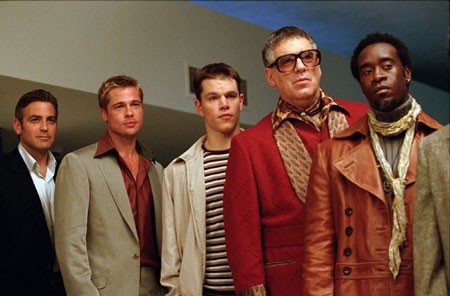 Image © Warner Bros. Entertainment
Love Actually
"Love Actually" boasted a huge British celebrity cast, and it quickly became one of the best Christmas romances out there. While it had a few hiccups, the movie is generally about love, relationships (both bad and good), and connection. It takes several interconnecting storylines and a wide range of characters and focuses on their love stories. This includes a man in love with his best friend's wife, an aging bad mouthed pop star, the prime minister, a writer who can't speak the same language as his love object, a married man struggling with the desire for infidelity, and a little boy in the midst of his first love after his mother's early passing. Starring
Emma Thompson
,
Hugh Grant
,
Colin Firth
,
Keira Knightley
,
Liam Neeson
,
Laura Linney
,
Bill Nighy
, and many others, it's hard not to come out of the movie with a smile on your face.
Anchorman: The Legend of Ron Burgundy
"Anchorman: The Legend of Ron Burgundy" was placed on this list mostly for a very specific scene, and everyone who has seen the film knows where this is going. This hilarious film became a wild success both in the box office and on DVD, and it's rare to go up to someone between the ages of 18-30 and say 'I love lamp?' and not get a laugh in return. The movie is a parody of news anchors in the 1970s; Ron Burgundy (
Will Ferrell
) is the best newsman in San Diego, but things get rough when he falls in love with an ambitious female reporter. When she steals his job, his mind turns to vengeance! It starts Ferrell,
Paul Rudd
,
David Koechner
,
Steve Carell
, and
Christina Applegate
primarily. However, there is a scene in the movie where all the news teams have a brawl, and this includes hilarious appearances by
Vince Vaughn
,
Tim Robbins
,
Luke Wilson
, and
Ben Stiller
.
Jack Black
also appears briefly and kicks a dog. It's funnier than it sounds. There's apparently a sequel in the works, until then, stay classy San Diego.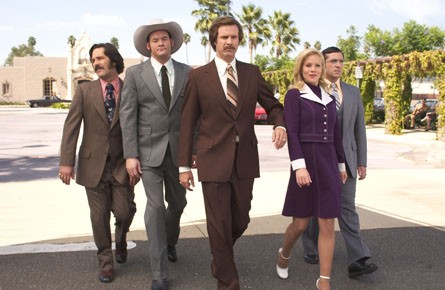 Image © Paramount Pictures
Best in Show
You could say that all
Christopher Guest
movies end up as great ensemble casts, and this is generally true. He has a tendency to bring the same actors together for his offbeat and humorous films, but "Best in Show" was particularly entertaining due to the cast. It's a documentary about a huge dog show held in Philadelphia and the five dogs (and their owners) that may just be the potential winners. It's a very amusing look at the show dog world and the weird competitive nature of the owners. The characters include a cute couple and their even cuter dog, two extremely intense and high strung dog owners, a laid back hick with his Bloodhound, a beautiful trophy wife and her focused dog trainer, and a gay couple with their sweet Shih Tzu.
Eugene Levy
,
Catherine O'Hara
,
Parker Posey
, Michael Hitchcock,
Christopher Guest
,
Jennifer Coolidge
, and
Jane Lynch
star, and they'll keep you laughing the whole time.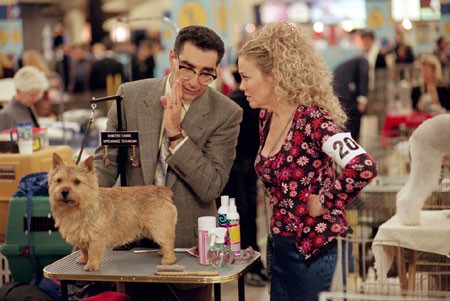 Image © Comedy Central
Crash
"Crash" won the Academy Award for Best Picture in 2005, and while most of the movies on this list are comedies and usually benefit from ensemble casts, this was a very serious drama. It focuses on race relations in the United States today, and it has several different connecting stories going on at once. It openly discussed the continued racism of modern day and the misunderstandings and problems that come from it. Starring
Don Cheadle
,
Matt Dillon
,
Sandra Bullock
,
Brendan Fraser
,
Terrence Howard
,
Ludacris
,
Ryan Phillippe
, and
Jennifer Esposito
, among many others, it's a tense and tragic film. While the cast may not have really been the selling point of the film, it's uncertain that it would've done so well with a cast of only unknowns. Considering the budget was only 6.5 million and it made almost 100 million in the theaters, this movie is the definition of a box office hit.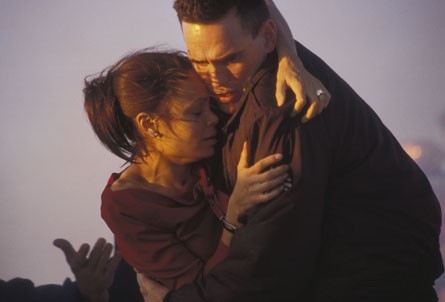 Image © Pathe Distribution Ltd
Honorable Mention:
True Romance
,
All the King's Men
, JFK,
Lord Of The Rings
,
Magnolia
,
Traffic
Story by
Chelsea Doyle
Starpulse contributing writer
Follow Chelsea on twitter at http://twitter.com/mustbethursday.