Val Kilmer's Neighbors:'We're Not Intimidated By Him'

Val Kilmer's neighbors in New Mexico have moved to block plans to turn his home into a bed and breakfast resort - insisting the actor must apologize for a series of negative comments he allegedly made about his adopted state.

The star has applied for planning permission to transform his expansive Pecos River Ranch near Santa Fe into a guesthouse, but local residents have lodged an official complaint with authorities. The group of unhappy residents claim they won't withdraw their objections until the MacGruber star says sorry for a series of remarks he is said to have made in a 2003 interview with Rolling Stone magazine.

Kilmer, who claims to have been misquoted, is alleged to have called New Mexico "the homicide capital of the Southwest" and claimed that "80 per cent of the people in my county are drunk." He is also accused of berating war veterans in a 2005 interview with Esquire, although the actor has furiously denied he made the statement and has "nothing but praise and respect for veterans."

At a meeting of local authorities last month to decide on Kilmer's permit application, the group demanded an apology from the star in return for the withdrawal of the complaint. San Miguel County Commission postponed a hearing on Kilmer's application until June 23rd and officials have written to Kilmer, urging him to attend the meeting in order to answer questions.

Commission chairperson, David Salazar, tells the Wall Street Journal, "It's a situation that's pretty volatile. The opportunity is there for him to come and set the record straight." And Jose Garcia, who runs a ranch next to Kilmer's property, adds, "That's all he has to do, come and apologize. We're not intimidated by him."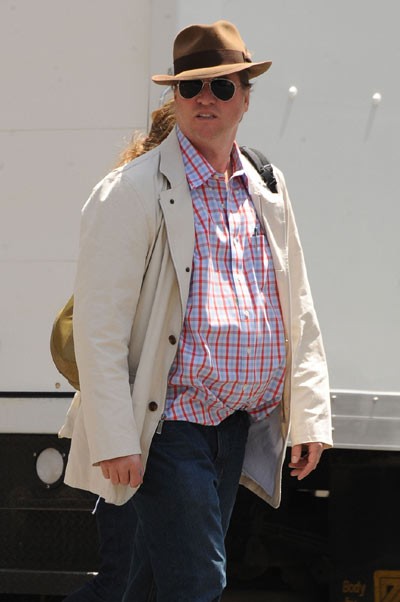 Click Here For More Val Kilmer Pictures