Uwe Boll Says He'll Quit Directing If A Million People Sign Online Petition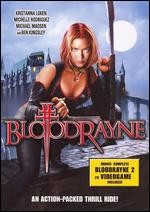 Uwe Boll
, director of such box-office losers as
In the Name of the King: A Dungeon Siege Tale
and
Alone In The Dark
, says that he'll stop making movies if an online petition asking him to reaches a million signatures.
The German director recently spoke with
FEARnet
, saying that the mere 18,000 names currently on the list are "not enough to convince me."
When asked how many names it would take for him to consider giving up his art, Boll said that a million would be the "new goal."
Since the
BloodRayne
director's chat with the horror site the number of names on the petition has spiked-- but only to 50,000-- still 95% short of Boll's goal.
-
Read the full Uwe Boll interview at FEARnet
-
Sign the petition here