USA Network Announces Fall 2013-14 Schedule At Upfronts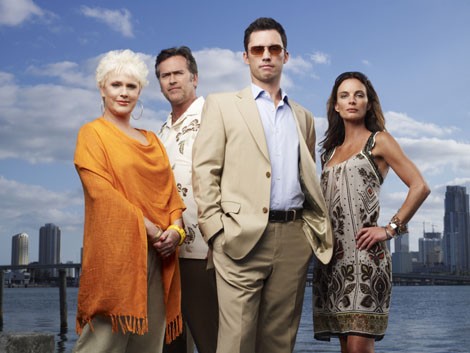 USA Network today greenlit its first original half-hour comedies, with series orders for SIRENS from Denis Leary ("Rescue Me") and Bob Fisher ("Wedding Crashers") and PLAYING HOUSE from Jessica St. Clair ("Bridesmaids," "Best Friends Forever") and Lennon Parham ("Best Friends Forever," "Accidentally On Purpose"). The network also picked up a new comedy pilot, LOVE IS DEAD. The new series will debut in the first quarter of 2014, and will be strong complements to MODERN FAMILY, the award-winning and top-rated comedy, which premieres on USA Tuesday, September 24 at 8/7c.
"This is the right time to be introducing half hour original comedies to the USA audience. With MODERN FAMILY joining our line-up in the fall, we can leverage television's most popular comedy to serve as a powerful launch pad for new originals in this genre," said Chris McCumber, Co-President of USA Network. "Our new series come from some of the best comedic talent in the business, and reflect USA's style – with great characters, strong execution and compelling storytelling," said Jeff Wachtel, Co-President of USA Network.
USA Dramas: Continuing to build on the network's strength of signature original series, USA announced today a powerful new drama slate of upcoming development from high-profile auspices and homegrown series producers. The network also announced that it will start production on HORIZON, a period genre project from Executive Producer Gale Anne Hurd ("Walking Dead"). USA's newest original series GRACELAND, from WHITE COLLAR creator Jeff Eastin, will kick off the network's summer slate of original dramas, featuring SUITS, BURN NOTICE, ROYAL PAINS, COVERT AFFAIRS and NECESSARY ROUGHNESS. The announcement was made in conjunction with USA's Upfront (#USAupfront), which is being held today at Pier 36 in New York and emceed by the cast of SUITS.
"We have an incredibly strong pipeline of new drama in development from a collection of top writers in the industry, many of whom have enjoyed a successful track record at USA," said Jeff Wachtel, co-president of USA Network. "Our drama development slate represents a broad range of themes, and ensures USA will continue to have a powerful mix of its dynamic originals as we plan for the future," said Chris McCumber, co-president of USA Network. 
Talk Stoop: Emmy®-award winning journalist Cat Greenleaf will be the first-ever host of its top-rated daytime programming block from 11am-3pm. Beginning 4th quarter, NBC's popular "Talk Stoop" franchise hosted by Greenleaf will leap from the local markets to the national stage, drawing on her unique insights and charisma to guide viewers through the day with buzz worthy commentary, pop culture news, and intimate one-on-one interviews with celebrities, brand icons and USA talent. Greenleaf's segments will air as short-form content pods, and will provide a unique opportunity for brands to organically integrate their marketing messages within programming wraps, as well as via product placement.  The announcement was made in conjunction with USA's Upfront (#USAupfront), which is being held today at Pier 36 in New York.
"Cat is the ideal person to host USA's daytime programming block, tapping her journalism expertise, dynamic personality and popular franchise to keep viewers engaged throughout the day," said Alexandra Shapiro, Executive Vice President of Marketing & Digital for USA Network. "Now more than ever, brands need creative solutions to break through the clutter in today's media marketplace. The integration opportunities around Cat's segments provide a seamless and entertaining way to convey marketing messages."
Greenleaf's segments will be anchored from her show's home in Brooklyn, and she'll bring her famous stoop on the road -- as she reports from junkets, red carpet events and brand partners' retail outlets.